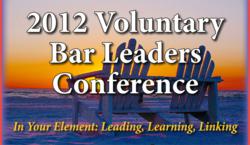 The panel discussion provides a great opportunity for us to share our knowledge about using online resources to help legal organizations connect with their ideal audience.
Atlantic Beach, FL (PRWEB) July 16, 2012
This week, Internet LAVA, a website design and online marketing company solely for legal professionals, will be a sponsor of The Florida Bar 2012 Voluntary Bar Leaders Conference, presented by the Bar's Voluntary Bar Liaison Committee. This event will be held on July 19-20, 2012, at the One Ocean Resort, Hotel & Spa in Atlantic Beach, Florida.
The two-day event hosts professionals from legal bar associations across Florida, who are gathering to help inspire and familiarize new bar leaders on the operations of The Florida Bar and the American Bar Association (ABA) as well as the resources available to help promote local legal organizations. The conference features panel discussions and offers workshops for Voluntary Bar officers and directors to assist in their operation and program development.
The conference officially begins at 12 p.m. on July 19 with a general session followed by panel discussions throughout the afternoon. President of Internet LAVA, Jason Miller, will speak in an hour-long panel discussion titled, "The Social Butterfly – Social Media Marketing Tools Available, How to Use Them, and the Benefits and Drawbacks of Electronic Communication v. Print Communication," during Breakout Session D, beginning at 1:10 p.m. on Thursday, and Friday during Breakout Session B at 9 a.m.. Speaking alongside him will be Jennifer Mansfield (Partner at Holland & Knight based in Jacksonville), and Moderator, Daniel Zuniga (current President of Palm Beach County Bar Hispanic Bar Association). The presentation will provide insights into social media marketing for legal organizations and lawyers.
Jason Miller shares his enthusiasm on the upcoming conference, "I'm really excited to be a part of this special event. Social media has shown remarkable benefits, such as helping increase awareness for organizations that use them properly. The panel discussion provides a great opportunity for us to share our knowledge about using online resources to help legal organizations connect with their ideal audience."
The 2012 Voluntary Bar Leaders Conference gives Voluntary Bar officers an opportunity to network and participate in workshops and seminars to assist them with operations and program development. In addition, attendees will earn two hours of general CLE credit for attending the general sessions and panel discussions. Some of the other discussions during the conference include:

"A Conversation with the President," presented by Gwynne A. Young, President of The Florida Bar.
"How to Effectively Run Your Association: Best Practices and Roundtable Discussion for Non-Staffed Bar Associations," presented by Michael Faehner, Clearwater Bar Association and Karen France, Executive Director, Clearwater Bar Association.
"Young Lawyers Division: Recruiting and Connecting with Young Lawyers," presented by Paige Greenlee, President, Young Lawyers Division and Melanie Griffin, President-elect, Young Lawyers Division.
For a full list of speakers and presentations, please see the full conference brochure. Along with gaining valuable insight on legal matters occurring throughout Florida and across the nation, attendees can also enjoy many of the leisure opportunities Atlantic Beach and One Ocean Resort have to offer. Available local activities include fine cuisine at One Ocean accompanied by the sounds of the local band, Fratello, and a post-conference golf outing at TPC Sawgrass, one of Florida's top golf resorts.
Internet LAVA, headquartered in Houston, TX, is a professional internet marketing company providing custom lawyer website design as well as effective online marketing solutions. Dedicated to the needs of law firms and attorneys throughout the United States, Internet LAVA has developed a specialized marketing package that allows attorneys to easily connect with clients who will benefit most from their services, while focusing on cases that are most valuable to their practice.
For more information about The Florida Bar or the Voluntary Bar Liaison Committee (VBLC), please visit floridabar.org.
For more information about Internet LAVA, please visit internetlava.com.