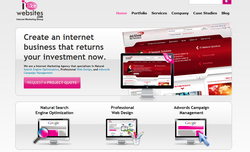 Why? Because we offer great affordable online services. Every single step must be taken care of: graphic design, web construction, promotion, ranking… we can do it all and attain excellent results at an affordable price
New York, NY (Vocus) February 12, 2010
ilikewebsites.com, a New York-based Internet Marketing Agency, changed the layout of its homepage in lieu of a more organized, user-friendly and appealing aspect.
"We want to raise the bar a few more notches. It's not just a matter of people visiting our site: we want them to love us."
"Why? Because we offer great affordable online services. Every single step must be taken care of: graphic design, web construction, promotion, ranking… we can do it all and attain excellent results at an affordable price," said Gus Parr, ilikewebsites.com SEO manager.
The integration of the company's commercial offer within the website aided with testimonials and case studies wants to get a message through: the company is capable of turning your website into a money-making online business that will repay your investment in no time.
"After lots of thought, reunions and deliberation, we decided to focus on integral online marketing solutions. Instead of caring for just one aspect of the web page's design, we offer complete packages for promotion, design, creation and positioning. Many companies have the same kind of services but none of them integrates these with a commercial focus. At least not like we do," Parr said.
The new design centers its attention on simplicity and ease. Bright colors, recognizable buttons and a simplified internal structure give the visitors a clear layout of this Internet Marketing Agency. A simplified portfolio gives the visitors some insight about the capabilities of ilikewebsites.com's designer team.
###