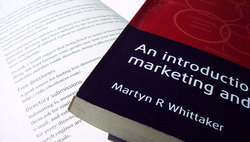 An Introduction to Internet Marketing and Planning
Poway, CA (PRWEB) February 19, 2009
Billy Fire LLC today announced the launch of: "An Introduction to Internet Marketing and Planning," a book written by Billy Fire's CEO, Martyn Whittaker. The book, available as a paperback and e-book, promises a fast track way for business owners, executives and marketing directors to understand the basics of on-line marketing and to use it to more effectively market their businesses.
The new book, was described by a variety of reviewers as "easy to read," "concise" and "a much needed overview of the fast moving world of Internet marketing."
According to Siân Whittaker, Billy Fire's Vice President, "I believe that this book will enable business executives to understand how the Internet, as a tool, can really help them to market their businesses cost-efficiently. We have found that most of the businesses we come across have some understanding of the Web, such as what a Web site is and some of its benefits, however most do not understand the basics of how to utilize search engine optimization (SEO), search engine marketing (SEM), social media marketing, Web analytics, e-mail marketing and pay-per-click marketing to attain their marketing goals. This book will fill in these knowledge gaps."
"Since many of the techniques described in the book can be a lot less expensive than traditional marketing methods, the launch of this book comes at an especially auspicious time considering the current financial climate," Siân added.
The book also discusses marketing planning and how it applies to Internet marketing. "When I was researching the book I was surprised at the scarcity of information on this topic, in particular the lack of literature on Internet marketing planning. Internet marketing is of fundamental importance, influencing the success or failure of every type of company. This book will significantly help all those involved with marketing to understand the core aspects of Internet marketing. It should help businesses make the most of their marketing potential at a time when we need all the help we can get. My goal for the book "An Introduction to Internet Marketing and Planning" is to make the complex world of Internet marketing more accessible for the uninitiated and for those lacking technical skills," said the book's author," Martyn Whittaker.
"If businesses recognize that the Internet represents huge marketing opportunities for them, then this book explains, in a straightforward way, how they can start to capitalize on these opportunities," continued Martyn.
Areas covered by the book include: the benefits of corporate blogging, how social media marketing can help businesses get their message out, how to set up Web analytics to monitor and analyze Web site traffic, e-mail marketing options,and the fundamentals of Search Engine Marketing (SEM) and Search Engine Optimization (SEO).
The book, which is 224 pages long, is available in two versions: a paperback book that retails for $29.95 and a pdf version available for instant download for $19.95. The paperback book is perfect bound with a full color glossy cover with black and white interior pages.
For additional information on the book: An Introduction to Internet Marketing and Planning, contact Martyn Whittaker or visit billyfire.com or semplanning.com. The book is available through Billy Fire LLC (SEO,SEM, Web design and marketing consulting), Amazon.com, Billy Fire LLC at Lulu.com and can be ordered through all good booksellers.
About Billy Fire LLC
Billy Fire LLC provides strategic marketing consulting and tactical marketing services including: graphic design, Web design, Web hosting, and Search Engine Optimization (SEO). The company is based in Poway near San Diego in southern California and serves a diverse portfolio of clients.
Billy Fire's broad skill set means that it can take on projects that require marketing strategy, design for print, design for the Web, copywriting, SEO and Internet advertising. This means that clients receive a high level of service at a very reasonable price that would be unobtainable if working with several creative companies which typically require a lot of coordination.
The company's Web hosting and site update service includes consulting time to do updates, add photos, do copywriting, post new articles, add staff profiles, post press releases, create client testimonials etc. It also includes annual domain name renewal, if required. Keeping a site updated with fresh information and adding new content on a regular basis make a site more interesting to someone visiting the site and makes it more likely that they will return to the site. Because search engines try to improve their customers' experiences a site that is attractive to visitors is also likely to rank more highly in the search engines.
Billy Fire is not a mystery director. Rather the name was the spontaneous response of a three year old when asked what his stage name would be on becoming a star. The three year old is now sixteen. We have kept the name which symbolizes vision and inspiration as we offer both qualities to our clients.
###