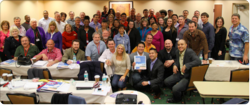 Early bird registration discounts are now being awarded to any person that signs up.
Atlanta, GA (PRWEB) September 26, 2012
Internet marketing is one area of business that many start ups must grasp before and after taking a business online for the first time. Some marketing concepts used in the offline world have not translated yet to online marketing campaigns. The Marketer's Black Book team is presenting a proven marketing approach during its November 9th through 11th live event in Jacksonville, Florida. These successful business owners have been part of hundreds of online start ups and are teaching new and existing business owners how to successfully market products and services online. A direct sign up form is available here at this link.
News reports about the number of entrepreneurs starting online companies can be found in top financial magazines. Part of the data that is represented includes surveys of new start up companies. While many of these companies can secure the proper funding to create an online company, not all companies that launch products and services online are successful. Part of the data includes figures that can be depressing to new start ups that hope to bring innovative products and services to the online world. The new data released reveals that 90 percent of new online companies will fail between years one and three online.
Staying alive in search engines is becoming harder for content that is older than 90 days according to the Internet Marketing for Beginners website. Companies can develop attractive websites that utilize modern applications and still fail to produce content that is worthy of search engine indexing. Google has changed its approach to indexing content by integrating a Pagerank formula. This formula is an internal numbering system that Google applies to websites in an effort to judge the importance of content that is distributed from a website.
One of the methods that Marketer's Black Book experts plan to teach at the November 9th live event in Jacksonville, FL is how to create and supply informative content that search engines will approve for pennies on the dollar.
"We come in contact with business owners, website owners and new entrepreneurs daily that have great products and services," said Bernard Ablola, co-owner of Marketer's Black Book and a former Microsoft AdCenter Analyst. "Getting products and services in front of the people that buy them is much easier when you know expert Internet marketing techniques like we teach," Ablola said.
New start ups, existing businesses and website owners that would like more information about building traffic and profits online could benefit from attending the Marketer's Black Book Internet Marketing for Beginners live event. Early bird registration discounts are now being awarded to any person that signs up at this link before the cutoff period is announced.
About Marketer's Black Book
The Marketer's Black Book website was launched in 2010 as a free resource for Internet marketers and business owners to use to help grow web traffic online. In the two years since its launch, the Marketer's Black Book website now receives thousands of visitors each week that are searching for new tips, tricks and techniques to help further a business, blog or other website online. The entire Marketer's Black Book team speaks frequently at top technology and business seminars in the United States teaching entrepreneurs how to succeed online. A network of several hundred successful websites are owned and controlled by the experts at MarketersBlackBook.com.