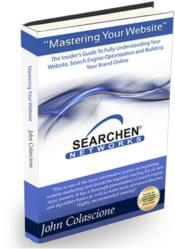 This book was not written as a how to on Search Engine Optimization, but more as a why Search Engine Optimization works; what exactly it is or what you're paying for by hiring a reputable firm to do it for you
(New York, NY) (PRWEB) February 22, 2013
SEARCHEN®, a web consulting firm run by Internet entrepreneur John Colascione, has announced the release of a new book which deeply examines the Google search engine and its efforts to sift through millions of pages often producing the best results.
Google Inc., a company which has become a household name over the last decade, can make or break just about any businesses. In a new, continually changing environment, those with the foresight to predict where their company's energy is best spent are likely to reap significant rewards when it comes to growing a brand through Internet based traffic provided by the world's leader in Search.
"This book was not written as a how to on Search Engine Optimization, but more as a why Search Engine Optimization works; what exactly it is or what you're paying for by hiring a reputable firm to do it for you", said Colascione. "What works for one business online doesn't necessarily mean the same method can be applied to a different vertical. In order to succeed online and truly grab hold of the competitive edge the Internet provides, you need to first understand why the things that work do, so that you can create your own strategies based on the uniqueness of your business. Without this often missing link of understanding the toughest folding wallet can be left empty. Even if you're thinking of hiring a firm for optimization, at least read this book first, so that you understand what it is that you're buying."
The 214 page book is available in both paperback and digital formats and can be ordered online at the following links for Barnes and Noble or Amazon.com
http://www.barnesandnoble.com/w/books/1110062948
http://www.amazon.com/Mastering-Your-Website-Understanding-Optimization/dp/1475155662/
Language: English
ISBN-10: 1475155662
ISBN-13: 978-1475155662
Product Dimensions: 0.5 x 5.9 x 8.9 inches
About SEARCHEN NETWORKS®
Searchen Networks ® is a pioneer in search engine marketing. The SEARCHEN® mission is, and has always been, to provide services poised at increasing a company's overall visibility on the Internet. Providing customers around the world with Internet domain names (web addresses), web hosting, SSL certificates and more, Searchen Networks ® services its own network of media properties and provides expert Internet consulting to clients throughout the United States.
For more information please visit: https://www.Searchen.com