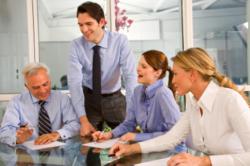 Finding an audience online is now more challenging due to the algorithm updates recently enabled by Google.
Jacksonville, FL (PRWEB) May 09, 2012
Internet marketing might not receive a second thought or search of the actual definition by regular people, but for some small business owners and individuals it can make or break their online results. It appears that new websites are found by searching in places like Google or Yahoo, but the reality is that the positioning that many of the top websites receive in search engine results comes from Internet marketing techniques. http://www.marktersblackbook.com, an Internet marketing company, is comprised of a team of specialists that dreamed of creating an online resource to help others achieve marketing success online. This company is now offering Internet marketing consulting services to the public. There are reasons why some websites are successful and others can fail without warning. The specialists at Marketer's Black Book are helping those doing business online to avoid common mistakes and achieve planned results.
Before the Internet achieved its current fame, businesses relied on direct response marketing though television and print advertisements. The rise of the digital revolution in the last decade has made it faster and easier for the general public to access information online. Market research studies have been conducted that measure consumer purchasing trends and as many as 85 percent of consumers now search Google or Yahoo first before buying a product or service. "We are contacted by website owners everyday that are trying to find an online solution to sell their products and services," said Francis Ablola, Co-Founder and Expert Copywriter at Marketer's Black Book. "Finding an audience online is now more challenging due to the algorithm updates recently enabled by Google," Ablola added. "Companies that are exploring digital video marketing can tryout tools like Tube Toolbox to help rank their videos on YouTube and in Google," offered Ablola.
The cost of doing business online can be more expensive than registering a domain name or buying a website hosting package. There are millions of websites now online around the world and many products and services are in direct competition for consumer attention. New companies release marketing tools that can be very helpful to website owners. One roadblock faced by some website owners is paying to purchase software that has not been evaluated or tested by others in their industry. "We constantly purchase new software and online tools just to try them out so we know what works and what does not for our clients," said Brian Hanson, Co-Owner and SEO Expert at Marketer's Black Book. "Tools like AWeber can be very helpful to companies that are trying to build a mailing list to market products and services online," Hanson added. The expert team at Marketer's Black Book is now scheduling clients to offer consulting services to help change the way that business owners and individual website owners find and maintain success online.
About MarketersBlackBook.com
Five Internet marketing experts had the idea in 2010 to put together an online resource that could help struggling website owners and Internet marketers to find a route to success online. This idea was Marketer's Black Book and this website now receive thousands of visitors each month from around the world that want to learn ways to earn more revenue with Internet marketing online. The new consulting services are a private feature that allows one-on-one training with the entire Marketer's Black Book team.