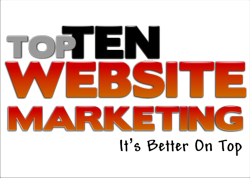 Local Marketing Specialist for Florida and the New York Tri-state area.
Fort Lauderdale, FL (PRWEB) June 19, 2012
One of Top Ten Website Marketing's main goals is to maximize different companies' Internet exposure and profits in the most cost effective way possible; and this SEO Company in South Florida has recently decided to extend their services to other states. By now becoming an SEO Company in New York, with representatives who also service New Jersey and Connecticut, they will only continue to increase their clients' exposure and overall success, as well as their own. Top Ten Website Marketing's main objectives are to increase the volume of high quality traffic to customers' websites and produce greater ROI (Return on Investment) for them by catering to their specific Industry needs and Local Market with a multitude of different methods. Their carefully selected, highly qualified, skilled, and dependable staff identifies target audiences, popular key search phrases, and always keeps up to date with the new and current SEO marketing techniques, along with conducting their regular services.
With over 14 billion Internet searches performed each month, it is imperative that people, their companies, and/or their corporations, choose their marketing resources wisely. Today's society is thriving with ever-growing, ever-expanding, ever-spreading, and more sophisticated technology, and Internet savvy people, and this advancement leads to the demand of the sophistication and improvement of marketing methods as well, and if chosen accurately, the marketing company people hire will provide them with maximum exposure for their companies. Top Ten Website Marketing was established in 2007 by Peter and Tina Pekofsky, Certified SEO Technicians who continue to further their proficiency by completing training courses and thorough research. After the remarkable success of their SEO and marketing during the ten years of owning a world renowned night club in South Beach, FL, they decided to start their own marketing company. They offer effective and affordable services that include but are not limited to: Website Design, Content Management Systems, Search Engine Optimization, Search Engine Marketing (SEM), "Pay per Click" Management, Link Building, and Press Release writing, they have personalized Internet Marketing Strategies for small companies and large corporations, and they offer free consultations and/or website analyses for new prospective clients.
They are also offering a new Search Engine Marketing package that will have their clients' companies' information listed on 30 major local listing websites, such as: Yahoo, Yelp, MapQuest, Super Pages, Yellow Book, Citysearch, Foursquare, and many more, with a combined reach of over 150 million searchers per month. They will then monitor and maintain their clients' listings with updated photos, descriptions, coupons, and more. They have collected over 30 premium sites and have combined them into one package that gets clients' online listings up and running, whether they are a new company, one looking to expand and increase quality traffic to their websites, or have recently moved. Top Ten Website Marketing's local Internet advertisement has never been better!
Along with their aforementioned services, Lead Capture Technologies, and many other services, their Content Management System, in particular, allows clients to update their websites, even without any knowledge about HTML or other website codes, allowing them to add articles, change text, add new products, add and update Word documents and photographs, and complete many other functions with ease. Their SEM service creates powerful Social Media Marketing Campaigns that produce desired and optimum results for their clients because the company's proficient employees monitor and analyze the appropriate mediums every day, such as Twitter, Facebook, Google, Bing, and more, ensuring that only the best, most up to date, and most effective methods are employed. Priding themselves on their devotion to customer satisfaction, they offer one on one services, consult thoroughly with clients on a regular basis, ensuring that they are satisfied and that their specific needs are met, and provide monthly transparent ranking reports, (along with suggestions and solutions if applicable). This Internet Marketing Company perpetually strives to improve their website design and marketing techniques, and works diligently to increase the success of their clients' websites, and of course, of their own as well. When one chooses Top Ten Website Marketing, they can expect to find their websites rising to the top of Search Engine results, providing them the exposure they need to lead quality traffic to their websites, and increasing their ROI and overall success. In addition to clients in Florida, people in New York, New Jersey, and Connecticut can benefit from their services now as well!
For more information about Top Ten Website Marketing, or to have us put together a personalized, cost-effective Internet Marketing Plan for your company, please call us at one of our two locations: (Florida: 305-970-5699, New York: 845-262-4700), or visit us at http://www.top-ten-website-marketing.com.
Media Contact:
Pete Pekofsky
Top Ten Website Marketing
Phone: 305-970-5699