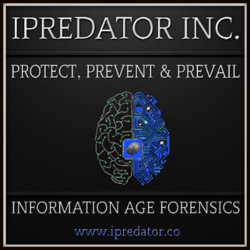 I wonder if historians will one day, centuries from now, look back upon us and conclude we were a culture blind to the hidden dark side of cyberspace. Michael Nuccitelli Psy.D. (2012)
Hudson Valley, New York (PRWEB) April 29, 2013
iPredator Inc. is pleased to announce the national launch of their internet safety, cyberbullying, cybercrime and online sexual predator education website. iPredator Inc. founder, Michael Nuccitelli Psy.D., C.F.C., authored and compiled the majority of the vast information available at no cost to all online users. Although the site went live in June 2012, it took Dr. Nuccitelli and his associates eleven months to correctly format the site making the available information user-friendly to the professional sector, media and parents.
As Information and Communications Technology expands, internet safety, cyber-attack prevention and cyber security are areas requiring immediate attention for parents, educators, organizations and all aspects of society. The Information Age has many benefits to children and all humanity, but it is vital to identify and prevent the malevolent and nefarious elements that exist in cyberspace.
In 2010, Dr. Nuccitelli transcribed his theoretical construct, iPredator, which was published in the 2011 winter issue of the Forensic Examiner published by the American College of Forensic Examiners Institute. The iPredator construct is the backbone of all iPredator Inc.'s products and services. His 2013 definition is as follows:
iPredator: A child, adult, group or nation who, directly or indirectly, engages in exploitation, victimization, stalking, theft or disparagement of others using Information and Communications Technology. iPredators are driven by deviant fantasies, desires for power and control, retribution, religious fanaticism, political reprisal, psychiatric illness, perceptual distortions, peer acceptance or personal and financial gain. iPredators can be any age, either gender and not bound by economic status, race or national heritage.
iPredator is a global term used to distinguish anyone who engages in criminal, deviant or abusive behaviors using Information and Communications Technology. Whether the offender is a cyberbully, cyberstalker, cyber harasser, cyber criminal, online sexual predator, internet troll or cyber terrorist, they fall within the scope of iPredator. The three criteria used to define an iPredator include:
I. A self-awareness of causing harm to others, directly or indirectly, using Information and Communications Technology. II. The intermittent to frequent usage of Information and Communications Technology to obtain, exchange and deliver harmful information. III. A general understanding of Cyberstealth used to engage in criminal or deviant activities or to profile, identify, locate, stalk and engage a target.
Dr. Nuccitelli is quoted stating:
"The repercussions of the unrestricted latitude of iPredators will be catastrophic for not only the individual, but for society, and potentially, the world over. Therefore, before it is too late, society must re-examine the phenomenon of "social networking" via technology. Humanity must become educated in the Dark Psychology of Information and Communications Technology and learn to respect the mighty potential for harm that lurks beneath its surface. Society has now become ripe for the birth and growth of a new human predator advanced in all things Internet. This deviant's name is iPredator."
In addition to their large database of internet safety information, iPredator Inc. offers for purchase a variety of extensive checklists and inventories designed by Dr. Nuccitelli and formatted to use as diagnostic tools, education and investigation instruments. To inquire about their professional and educational services, please visit the services page at the iPredator website. To all online users, media and organizations, feel free to contact Dr. Nuccitelli anytime, as he is passionate about educating America on cyber attack prevention and internet safety.
About iPredator Inc.
iPredator Inc. is a New York State based Information Age forensics company founded to provide educational and advisory products & services to consumers and organizations on cyberbullying, cyber harassment, cyberstalking, cybercrime, internet defamation, cyber terrorism, online sexual predation and the new field the founder is pioneering termed, Information Age Psychology. Created by a NYS licensed psychologist and certified forensic consultant, Michael Nuccitelli Psy.D., C.F.C., their goal is to reduce victimization, theft, harm and disparagement from online assailants. In addition to assisting citizens, their mission is to initiate a national sustained educational & awareness campaign with the help of seed funding from private, state and federal agencies. At the website, they offer a variety of products and services all developed by Dr. Nuccitelli and relevant to internet safety and cyber attack prevention.
Contact:
Michael Nuccitelli Psy.D., C.F.C.
NYS Licensed Psychologist
C.E.O. iPredator Inc.
347-871-2416
Website: http://www.iPredator.co