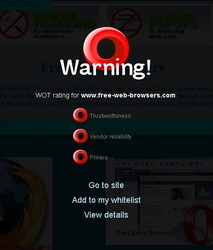 Warning! Your computer is infected with spyware
New York, NY (PRWEB) September 17, 2008
Fake anti-malware software, marketed under hundreds of different names, scares users by giving false spyware alarms and then tries to deceive them into paying for removal of non-existing malware. The goal of these criminal software makers is to make people pay for the "full" version of their bogus anti-malware product and to collect financial information that can be used for phishing.
The fake security product often installs malicious software to download itself or executes other unwanted actions. The user is shown fake messages such as, "Warning! Your computer is infected with spyware", followed by a promise that the chargeable version of the tool will remove this non-existing threat. These tools are promoted using hundreds of different names, such as XP Antivirus 2008 and XP Antivirus 2009.
"Web of Trust offers Internet users a common platform for sharing their experience with websites and companies, making Web 2.0 work for a safer Internet," said CEO Esa Suurio, from the Web 2.0 Expo in New York City this week.
How to get protection from these threats
WOT, Web of Trust, provides Internet users with preventive protection against online threats. The WOT security add-on warns users about dangerous and suspicious websites to help them avoid spyware, browser hijacking, identity theft, phishing and other Internet scams. Website rating information is updated continuously by the user community and numerous trusted sources, such as listings of malware and phishing sites. The free security add-on works with Internet Explorer and Firefox browsers and can be downloaded at http://www.mywot.com.
Supporting Facts of WOT

WOT has been downloaded by over 1 million users
Information on over 20 million websites
Based on WOT statistics, 1 out of 20 sites is dangerous
WOT users can contribute by rating and commenting on websites
WOT also receives information from a large number of trusted sources, such as PhishTank, hpHosts, DNS-BH Malware Domain list and Artists Against 419.
Resources

Contact
Name: Esa Suurio, CEO
Phone: +358 40 716 9301
Address: Against Intuition, Inc.: Italahdenkatu 27 A, 00210 Helsinki, Finland
Email: esa.suurio @ mywot.com
# # #