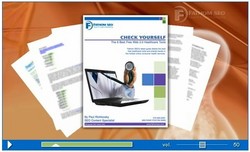 When people look for health information online, the majority of them start with a Google search
Cleveland, OH (PRWEB) October 24, 2007
Like the healthcare industry in general, the world of online healthcare is changing rapidly, and Fathom SEO documents the changes in its latest complimentary guide: Check Yourself: The 6 Best Free Online Healthcare Tools. The guide and accompanying internet video illustrate the growing popularity of online Personal Health Monitoring services. They also exhibit how the best new health websites tend to do three things well: one, they capitalize on innovative ways to let consumers track their own health struggles and triumphs; two, they bring consumers closer to authoritative health information; and three, they bring consumers closer to each other.
Fathom SEO's healthcare tools guide explains how health websites currently offer access to blogs, user journals, messages from practicing physicians, and a whole host of tools that allow consumers to conduct research and monitor their own health information. In this exciting new online health frontier, Web 2.0 becomes Health 2.0, exhibiting all the trademark characteristics of easy navigation, rich interactivity, user-generated content, and widespread community participation in forums and social networks.
Readers can also find out what and where the best free healthcare tools are. Trends in consumer use of the Internet for obtaining health information as well as information about the most popular kinds of Personal Health Monitoring services are also available.
"When people look for health information online, the majority of them start with a Google search," says Paul Richlovsky, SEO Content Specialist and author of the new guide. He adds, "The importance of search engine optimization for healthcare websites cannot be understated, especially as Web 2.0 and multimedia search result offerings--podcasts, videos, blog posts, photos--become more plentiful in Google's shift to Universal Search."
As use of Internet video in particular becomes increasingly prominent, patients and doctors alike post videos of themselves for sharing and advice-giving on community-oriented websites, and hospitals show surgical procedures and human anatomy tours. Fathom SEO's new Internet video marketing program, Instant Reply, capitalizes on the emerging importance of video in the Internet landscape. View Fathom's video introducing the 6 Best Free Web 2.0 Healthcare Tools.
Fathom SEO, an Internet marketing company, offers search engine optimization for healthcare websites as well as other industries. In addition to natural Search Engine Optimization (SEO), it is a comprehensive provider of SEM services, including Online Video Production and Distribution, Online PR & Link Building, Pay-Per-Click Management (PPC or Paid Search) and Opt-in Email Marketing.
###