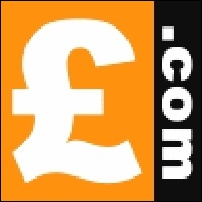 London, England (PRWEB) July 20, 2007
Moneyedge Limited wish to announce the sale of their £.com domain, representing the British pound.
Arguably the 'pound's home on the net', £.com is one of a 'handful' of symbol-based domain names in the world. Richard Haigh, Director of Moneyedge, had this to say about his company's offering:
"£.com has never been promoted yet has many users curiously typing the name in to their browser bar on a daily basis. I would say that 99.99% of internet users still do not know that symbol-based domains exist. This is understandable, however, as they are extremely rare (only 16 in '.com') and until recently were not viable to promote.
The sale includes poundsymbol.com, and this domain will allow £.com to pass the 'radio test' and be promoted by every media. This 2 domain 'set' will probably be acquired by a company looking to create a wholly unique financial services identity on the internet."
£.com makes use of IDN (International Domain Name) technology and to access the domain visitors need to use a recent web browser like Internet Explorer 7 or Firefox 2 and be in one of the 18 countries that have the £ symbol on their keyboards. According to Marketshare, the browser statistics service, IDN-enabled browsers are now at around 45% market share world-wide; all this within a year, and the 'take up' trend looks set to continue.
Haigh went on to conclude "Normally with domain names there is a 'trade off'. Long domains are descriptive but not so easy to remember. Equally, short names can be more memorable but usually not very descriptive, so users may have difficulty remembering what the site was about. £.com has none of these difficulties, the name is instantly memorable and explains the site premise before any kind of advertising has taken place."
Moneyedge is now looking for offers for this desirable 2 domain 'set'. The closing date for offers is 30.09.07.
About Moneyedge: We are a small UK company, founded in 1999, and we specialise in internet investments, particularly those with a strong marketing angle.
Contact:
Richard Haigh, Director
Moneyedge Limited
+44(0)7952 300820
http://www.poundsymbol.com
###