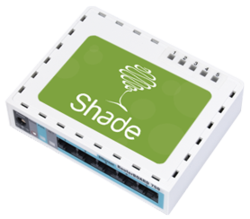 Protect entire family from shocking internet content
Sacramento, CA (PRWEB) December 26, 2012
Some Christmas gifts open new dangers for the family. Parental controls are now more important than ever to protect against objectionable content that can be accessed easier in the home.
Shade, a new and powerful home-networking device equipped to filter and block digital dangers on the Internet. Shade enhances home networks, working with any Internet connection, to spread protection to all the digital devices throughout the house.
Shade Internet Filter is a brand new network device that filters questionable Internet contacts that may be initiated accidentally or on purpose from any internet device, including computers, computer notepads, e-readers, smartphones, and gaming consoles.
Digital David vs. Digital Goliath
Unlike filtering software, Shade is a piece of hardware that does not need to be installed and configured on every digital tool it protects. All it requires is one installation per Internet connection, which takes about 5 minutes.
Shade is a David-sized protector ready to slay Goliath-size digital problems by scrutinizing and blocking problem websites. It serves as:

An Internet filter and control device for all types of problem websites
A network pornography filter
A game console filter, and
An easy parental control tool.
Dividing and Conquering
Although tiny, Shade is a leviathan of a device when it comes to dividing the millions of websites on the Internet into a relatively small list of filtering categories. This makes selection of parental controls easier. Parents can choose from 56 classifications including terms such as "social media," "games" and "adult." Selecting a classification such as "academic fraud" can aid you in shielding questionable websites when doing homework.
Shade empowers parents to block complete categories of content or specific websites considered harmful. Low, medium and high filtering levels help fine tune control. For example, setting the level at "low" blocks Internet content intended for adults. The "high" level excludes social networking and video-sharing websites as well as adult content.
Tossing Fraudulent Phishermen Overboard
Shade also exposes phony phishing websites -- aimed at stealing identity information and finances -- back into the cybersea. Shade partners with more than 10 of the world's leading companies specializing in identifying sources of malware and robotic digital websites called "bots" that "crawl" the Internet to "scrape" personal and financial information.
Making Safety Affordable
Whereas large businesses spend up to $15,000 for this level of protection, Shade provides safety for the home at a price families can afford. It helps prevent worries and keeps your family healthier and happier without removing the internet completely.
Shade only exists because families and other home Internet users need help. Shade provides the technical protection for parents in a simple solution. For more information, please contact Anthony Falcone at The Tree Network.