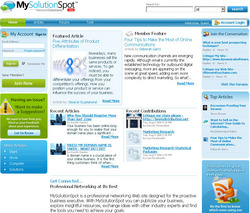 Network Solutions is pleased to offer businesses this professional and interactive environment for education and networking
Herndon, VA (PRWEB) August 11, 2008
Leading e-business solutions provider Network Solutions® announces the launch of professional networking Web site MySolutionSpot, visible online at MySolutionSpot.com. MySolutionSpot is an educational resource and online community exclusively for small to medium-sized businesses. Members can participate in forums, submit articles, and access our comprehensive article library.
"Network Solutions is pleased to offer businesses this professional and interactive environment for education and networking," said Michele Krisanda, VP Corporate Communications and Online Communities at Network Solutions.
MySolutionSpot provides members with free tools to build and expand their business network online. Members have the ability to create detailed profiles featuring information about their businesses as well as their professional experiences. Members also have the option to participate in forums covering relevant business topics such as marketing, finance and IT/technology.
MySolutionSpot is also an educational tool. The Web site's resource center houses a vast collection of business articles pertinent to every industry and stage of the business life cycle, from the development of business plans to the implementation of advertising and marketing strategies. Members can read these articles in order to learn about valuable business solutions. Additionally, they can submit their own articles to promote their business and build credibility in their niche or industry.
Krisanda added, "We encourage business owners to join the conversation as part of the online community and to share their own experiences and expertise by posting articles." Top articles are already online, as well as active forum discussions on topics from Web site design critiques to prospecting techniques, and member features are added regularly.
For more information, visit About.NetworkSolutions.com or MySolutionSpot.com.
About Network Solutions:
Network Solutions, a leading provider of e-business solutions and the pioneer of the domain name registration service, offers a full range of Web-related services, including Web hosting, Web design, e-commerce software, search engine marketing, SSL certificates, e-mail services and domain name registration. Network Solutions draws on more than 29 years of experience to make it simple and affordable for customers to build and manage an online presence through a one-stop Web solutions provider. Additional information about Network Solutions' offerings is available at NetworkSolutions.com.
###