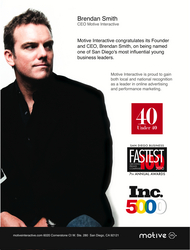 My entire team and I have worked hard to establish Motive Interactive as the foremost invitation-only, performance-based advertising network.
San Diego, CA (PRWEB) September 12, 2010
Brendan J. Smith, founder and CEO of Motive Interactive Inc., has received San Diego Metropolitan magazine's 11th annual 2010 "40 Under 40" award.
The prestigious award recognizes 40 of the brightest young professionals, executives, entrepreneurs, and civic leaders in San Diego County who are under 40 years old for their career triumphs and community contributions. Honorees of the 11th annual 40 Under 40 Awards were recently recognized at a luncheon at the San Diego Convention Center.
"My entire team and I have worked hard to establish Motive Interactive as the foremost invitation-only, performance-based advertising network," said Smith, "I am pleased to be recognized for these efforts with the nomination for this prestigious award."
Smith, a native of the New York metropolitan area, is a serial entrepreneur, avid surfer and outdoor sportsman who resides in Del Mar, California. He founded Motive Interactive in 2003 in Lake Tahoe, Nevada and in 2007 moved the company to San Diego. This move was inspired by Smith's desire to create an environment that maximizes quality of life for employees and gives the business a more suitable environment for growth. Under Smith's leadership, Motive Interactive has demonstrated outstanding performance and growth. The privately-owned firm has achieved a three-year growth rate of over 300 percent, going from $4.3 million in revenue in 2006 to over $17 million in revenue in 2009. Motive continues to grow, with revenues over $20 million in 2010.
As a result, Motive Interactive recently landed on the coveted Inc. 500/5000 2010 list of America's fastest-growing companies. The company ranked No. 977 among the other honorees and No. 98 within the advertising and marketing industry. Even more recently, Motive Interactive was named one of the fastest-growing private companies in San Diego County by the San Diego Business Journal. Known as the "Fast 100," the award—whose rankings have not yet been published—recognizes companies based on their percentage of revenue increase over a three-year period.
In addition to these awards, Motive Interactive has garnered a variety of other honors for its impressive performance. They include mThink's Blue Book Top 20 Performance Marketing Networks and Exchanges, 2010 Hot Companies by Network Products Guide, International Emerging Media Award 2009 (EMA Summit), and the 8th Annual 2010 Stevie® American Business Awards.
Motive Interactive is a leading performance-based advertising firm and affiliate network that provides lead generation for Internet advertisers through an exclusive invite-only network of Internet marketers. Unlike most other cost-per-action networks that lease third-part software, Motive Interactive distinguishes itself by using proprietary technology to support ad campaigns through media buying, display advertising, paid search, social media and e-mail marketing. The company's unique invitation-only approach translates into higher-caliber publishers and quality traffic for its advertisers.
For more information, please visit http://www.MotiveInteractive.com or contact Brendan J. Smith directly at (858) 677-0792, Ext. 115.
About Brendan J. Smith
As founder and CEO of Motive Interactive, Brendan Smith oversees all aspects of the company's operations with a focus on new business development, strategic relationships, design and technology. Prior to launching Motive Interactive, he served as a senior business development manager for NetCreations Inc., a leading opt-in email marketing firm. At NetCreations, he created a team responsible for developing business opportunities with strategic partners, such as MSNBC, CNET, ZDNet, Tech Republic, and Tech Target. Before joining NetCreations, Smith was a successful entrepreneur who operated several profitable travel, technology, and survey based-Web sites that have been featured in prominent venues such as Travel + Leisure Magazine, Coastal Living, The New York Times, New York Post, New York Magazine, The Washington Post, Denver Post, Concierge.com, lonelyplanet.com, and fodors.com. Smith is a founding member of: Interactive Advertising Bureau (IAB) Lead Generation Committee, Performance Marketing Alliance (PMA) and the Online Lead Generation Association (OLGA). A West Virginia University graduate with a bachelors degree in history, he has also been recognized as one of the top entrepreneurs in California, Nevada and New York.
###