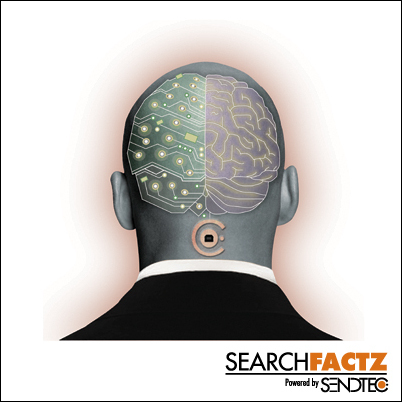 SEM is becoming the most powerful tool for all businesses today. Split-second decisions mean millions of dollars in gains or losses and a company's SEM strategy can make the difference
St. Petersburg, FL (PRWEB) October 12, 2006
The Internet marketing battlefield has created one of today's most dynamic industries -- Search Engine Marketing (SEM), an industry in which spending is predicted to reach $12 billion worldwide in 2006.(1) SendTec, Inc. (NASD Bulletin Board: SNDN), a future-focused direct marketing organization, has created a proprietary SEM innovation -- SearchFactz. A revolutionary bid and position management system, SearchFactz changes the rules of Internet marketing by serving up the strongest challenge yet to traditional technology-led bid management programs. The result: With SearchFactz, clients have already been able to reduce their cost to acquire a new customer by up to a staggering 72%. Other clients have gone on record to state that their monthly revenue has gone up by 70% since they have deployed SendTec's SearchFactz. (Case studies can be provided on request.)
"SEM is becoming the most powerful tool for all businesses today. Split-second decisions mean millions of dollars in gains or losses and a company's SEM strategy can make the difference," says Paul Soltoff, Chairman and CEO of SendTec. "We realized that to help marketers navigate successfully through the search-engine jungle, intelligent human reaction to the marketplace was vital and SearchFactz was born. SearchFactz combines hands-on human intelligence with industry-leading technology," Soltoff adds. "SendTec's in-depth understanding of sophisticated, proven direct marketing applications makes its search approach unique and superior. SearchFactz is the only SEM system developed for direct marketers by direct marketers."
In Pay-per-Click (PPC) Search Engine Marketing, marketers place bids on thousands of keywords that relate to their line of business. The objective is to beat the competition to the most effective position on a search page, at the highest ROI. So for continued success, keyword position management is the name of the game where keywords that produce volume at the right price need their value maximized, while losing keywords must have their bid amounts reduced or eliminated.
Tim Daly, Senior Vice President of Marketing Strategy at SendTec explains, "Until recently, marketers only had obsolete bid management tools, which ran on autopilot 'set it and forget it' technologies. In today's dynamic marketplace, the rigid, predictive bid management tools just don't cut it. Search engine providers include qualitative factors into their ad serving algorithms(2), thus statistical algorithms cannot be depended upon alone."
SearchFactz analyzes campaigns across search engines in real time and also provides a drilled-down evaluation of a single keyword's efficiency. "SearchFactz's patent-pending Alert System goes beyond just basic bidding strategies -- it actually recommends the need for marketing communication and landing page changes. To our clients, this puts the control back in their hands and more importantly achieves sales, a lot of sales," Daly adds.
A SearchFactz deployment with a client, Extra Space Storage, the 2nd largest storage facilities operator in the US, reduced its cost to acquire a new customer by 72% in just 90 days. Jeff Frankel, Vice President of International and Direct to Consumer Sales of Euro Pro has gone on record to say that "Our monthly revenue increased by 70 % after implementing SendTec's SearchFactz."
In the complex world of Internet marketing, a powerful position management system can mean the difference between a winning or losing campaign. With SearchFactz, SendTec has created a benchmark position management system that combines brain power with technology to enable companies reap the benefits and harness the truly extraordinary power of the web.
SendTec offers a resource centre stocked with white papers, executive briefs and articles on search written by Tim Daly as well as additional details on SendTec, its SEM practice and SearchFactz at http://www.SendTec.com. For information on this Internet marketing tool or to view the SearchFactz demo, please visit http://www.SearchFactz.com .
(1) Search Engine Marketing Professional Organization (SEMPO) at http://www.sempo.org
(2) Algorithms are a set of rules that a search engine uses to rank the listings contained within its index, in response to a particular query (http://www.sempo.org).
Safe Harbor
To the extent that any statements made in this release contain information that is not historical, these statements are essentially forward-looking. Forward-looking statements can be identified by the use of words such as "expects," "plans" "will," "may," "anticipates," believes," "should," "intends," "estimates," and other words of similar meaning. These statements are subject to risks and uncertainties that cannot be predicted or quantified and consequently, actual results may differ materially from those expressed or implied by such forward-looking statements. Such risks and uncertainties include, without limitation, risks associated with the uncertainty of future financial results, additional financing requirements, development of new products, the effectiveness, profitability, and marketability of such products, the ability to protect proprietary information, the impact of current, pending, or future legislation and regulation on the electronic marketing industry, the impact of competitive products or pricing, technological changes, the effect of general economic and business conditions and other risks and uncertainties detailed from time to time in our filings with the Securities and Exchange Commission. We do not undertake any obligation to publicly update any forward-looking statements. As a result, you should not place undue reliance on these forward-looking statements.
FOR MORE INFORMATION CONTACT:
Huma Gruaz 312-245-9805 Ext. 101
About SendTec
SendTec, Inc. (NASD Bulletin Board: SNDN), a future-focused, direct marketing organization, offers next generation Search Engine Marketing (SEM) services aimed at dramatically increasing ROI. SendTec's expertise in direct marketing gives them a strong edge in the booming SEM industry. Since their founding in 2000, SendTec continues to be one of the premier marketing services companies providing full service Direct Response Television consulting, script-to-screen production, media planning/buying/optimization, desktop reporting, and account services; Internet Pay per Performance; Direct Response Advertising; Online Direct Marketing and Response Optimization and Tracking. Servicing over 90 clients, SendTec is headquartered in St. Petersburg, Florida with offices in New York City. Clients include Intuit, uBid, Extra Space Storage, Euro-Pro, RealNetworks and Condé Nast. For more information about Internet marketing tools available from SendTec, please visit http://www.SendTec.com.
# # #