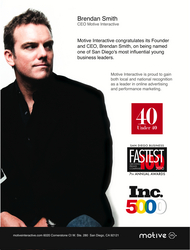 Our company has worked hard to create effective processes and leverage technology to become a leading provider of premium affiliate advertising services.
San Diego, CA (PRWEB) September 21, 2010
Motive Interactive Inc., a leading invite-only, performance-based advertising network, has added a new award to its recent string of top national and local honors. This month, the company was named to the San Diego Business Journal's Fast 100 List, ranking No. 2.
The San Diego Business Journal's Fast 100 List recognizes the most rapidly-growing, privately-held companies headquartered in the San Diego area. The annual award is designed to commend the city's top-performing businesses and represents an array of companies from across the region. The Fast 100 ranking is based on a percentage of revenue increase over a three-year period.
The Fast 100 List signifies the impressive pattern of growth that Motive Interactive has maintained in the past several years. The company has grown 306 percent over the last three years, going from $4.3 million in revenue in 2006 to $17.3 million in revenue in 2009. The trend continues in 2010, with revenues exceeding $20 million.
Motive Interactive Founder and CEO, Brendan J. Smith, is proud of the company's extraordinary performance and economic growth and is pleased to receive the Fastest 100 award. "Our company has worked hard to create effective processes and leverage technology to become a leading provider of premium affiliate advertising services," Smith said. "This award validates our accomplishments and distinguishes Motive Interactive as a leader in the cost-per-action advertising industry."
The Fast 100 List is among an assortment of performance-based awards Motive Interactive has garnered this year alone. For example, the company recently made the Inc. 500/5000 list for its remarkable growth from 2006 through 2009. Earlier this month, Smith was named a winner in San Diego Metropolitan magazine's 2010 "40 Under 40" awards, which recognizes 40 of the brightest young professionals, executives, entrepreneurs, and civic leaders in San Diego County who are under 40 years old for their career triumphs and community contributions.
Motive Interactive has also received a variety of other honors, including:

mThink's Blue Book Top 20 Performance Marketing Networks and Exchanges
2010 Hot Companies by Network Products Guide
International Emerging Media Award 2009 (EMA Summit)
8th Annual 2010 Stevie® American Business Awards (finalist for the Fastest-Growing Company of the Year category)
With its enduring success and growth, Motive Interactive is looking to expand its operations. The company is seeking to hire experienced affiliate managers and affiliate marketers, among other positions. Having high-caliber team members is a key component of Motive Interactive's success, which is why it employs an invitation-only method of adding Internet marketers to its network. This selective approach allows the company to target top Internet marketers who deliver higher quality traffic for advertisers.
For more information about Motive Interactive, please visit http://www.MotiveInteractive.com. Or to learn more about the company's affiliate marketing or advertising opportunities, contact Brendan Smith at (858) 677-0792, Ext. 115.
About Motive Interactive Inc.
Established in 2003, Motive Interactive is an award-winning company that provides lead generation for Internet advertisers through an exclusive invite-only network of Internet marketers. Unlike most cost-per-action networks, Motive Interactive uses proprietary technology—instead of third-party software—to deliver a unique brand of performance-based advertising. The company offers media buying, display advertising, paid search, social media and e-mail marketing, as well as consulting services to help clients conduct successful ad campaigns. Motive Interactive operates under the leadership of Founder and CEO Brendan Smith, who is responsible for all aspects of the company with a focus on new business development, strategic relationships, design and technology. Smith has been recognized as one of the top entrepreneurs in California, Nevada and New York. Motive Interactive is a privately-owned firm based in San Diego, Calif.
###