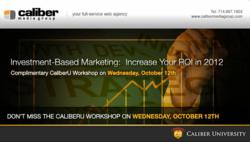 "Major corporations are rapidly shifting their marketing investments away from traditional media to internet marketing for very sound reasons" said Terry Gniffke, CEO of Caliber Media Group
Orane, California (PRWEB) October 04, 2011
"Marketing as an Investment" is a fast paced one hour session on Wednesday October 12th at 2 PM. Participants will learn how to capture maximum ROI for their marketing budgets and implement strategies for short-term and long-term growth. The program is developed and hosted by Caliber Media Group of Orange County.
Caliber Media Group, a full-service Internet Marketing Agency in Orange County, has been advising clients for 11 years on how to grow their businesses online with internet marketing. Their "secret sauce" is revealed in a new Caliber University seminar, "Marketing as an Investment: Short Term and Long Term Strategies that Generate Results".
As the importance of a business web presence grows, the need to shift marketing dollars to the internet grows. But, the need for strategic planning grows too. Strategic marketing is an investment that will yield a strong ROI if planned and managed correctly.
"Major corporations are rapidly shifting their marketing investments away from traditional media to internet marketing for very sound reasons" said Terry Gniffke, CEO of Caliber Media Group.
This complimentary seminar will lay the groundwork to understand the shift to internet marketing in a thoughtful and profit focused manner. The following topics will be covered:

Common marketing misconceptions
How to lay a solid marketing foundation to prepare for growth
How to plan an effective marketing budget for your organization
Ways to effectively incorporate various marketing opportunities into a strategic plan
All seminar participants will receive a copy of Caliber Media Group's full-length white paper "Marketing as an Investment: Short Term and Long Term Strategies that Generate Results". To register for this seminar please contact Kelly at Caliber Media Group.
Get social with them on Facebook
# # #