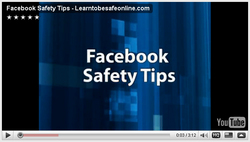 Dallas, TX. (PRWEB) October 15, 2009
Families, children and Internet users in general now have the opportunity to learn to be safer online with the free Internet safety tips and tricks found on http://www.learntobesafeonline.com. This site offers simple, short how-to videos that everyone can understand. Each tutorial has information for both Apple Mac users and Windows users on topics such as: Facebook Safety, Anti-Virus Tips, Twitter Safety, LinkedIn Safety and Wireless WiFi Security.
The sole purpose of this web site is to protect Internet users from the small number of people making the Internet an increasingly dangerous place for everyone else. The "Learn to be Safe Online" web site is a meaningful tool for all Internet users who want to protect themselves, their families and their information.
Mike Foster, an IT security professional, is the mastermind behind this campaign, which he created as a way to philanthropically give back to the world. Foster says, "The older I get, the more I realize life is about giving back and helping others." He has been an IT professional for more than 20 years, during which time he says he has seen too many bad things happen to people and companies. "My vision is to make the Internet safe by 10/10/10. The only way we can accomplish this is if we help end users to take responsibility for taking a few simple steps to make their machines more secure," says Foster.
The online safety tutorials are on the "Learn to be Safe Online" web site: http://www.learntobesafeonline.com.
About Mike Foster
With more than 20 years of experience in information technology, Mike Foster has made it his mission to take IT to the next level by helping families and businesses stay safe online. The philosophy behind Mike's mission is that since we all use the Internet, it should be a safe place to work, learn and play.
###