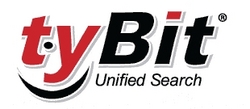 Fayetteville, NC (Vocus) March 26, 2009
tyBit Unified Search is the fastest growing search engine on the Internet providing relevant, secure search to its users. tyBit has recently received the highly coveted "Five Cow Rating" from Tucows featured on its industry leading free software download page. This recognition of tyBit as one of the best free software applications, vaults tyBit into the elite company of search industry leaders in spite of its short history on the market and previously limited availability to end users.
Tucows is the largest wholesale domain name registrar and a leading provider of Internet services to Web hosting companies and Internet service providers (ISPs). Tucows scores software available for download based on: usability, help documentation and support, program enhancements and the independent evaluation based on their reviewers overall impression. tyBit received high scores for install of the download toolbar, functionality, the program interface and program enhancements.
According to the PEW Internet & American Life Research Project, "the percentage of internet users who use search engines on a typical day has been steadily rising from about one-third of all users in 2002, to a new high of just under one-half (49%) in 2008. With this increase, the number of those using a search engine on a typical day is pulling ever closer to the 60% of internet users who use email, making search engines arguably the internet's all-time killer app, on a typical day".
tyBit Unified Search gives you the capability of conducting multiple searches simultaneously. It is perfect for anyone who needs to search the entire Web for information privately and securely. It lets users search the Web quickly by instantly submitting your search query to multiple search engines and online directories. It returns the results in a single window with maximum relevance in terms of your location, freshness of the content, and your preferences based upon how it has adapted to you as an individual.
According to the 2008 TMP Directional Marketing study, "the first sources used to find product and service information are Search Engines (31%), Print Yellow Pages or White Pages (30%), Internet Yellow Pages Sites (19%) and Local Search Sites (11%). This represents a change from the 2007 study, which ranked Print Yellow Pages first (33%), followed by Search Engines (30%) .
tyBit is extremely customizable, so that you as a user can view your results based upon multiple preferences. The options within tyBit give the user the capacity to "comparative shop" for local business that are online. The overall tyBit search feature set is unmatched even by the major search engines. Other customization options include filters, type of search, and the ability to specify the number of results delivered from one search.
Because it is free, tyBit does not require detailed personal information for registration. tyBit is no ordinary toolbar but an actual search engine on the user's desktop so it is completely private. Advertisers do not have your personal information; only your IP address so they can track where their traffic came from and when. Only when you communicate with the advertiser or order from their Web site do they know "who" you are. Try tyBit today and see why Tucows gives it a five star rating.
About Tucows:
Tucows is headquartered in Toronto and maintains offices in Europe and the United States. Tucows is a global Internet services company. OpenSRS manages over 8 million domain names and millions of email boxes through a reseller network of over 9,000 Web hosts and ISPs. Hover is the easiest way for individuals and small businesses to manage their domain names and email addresses. YummyNames owns premium domain names that generate revenue through advertising or resale. Butterscotch.com is an online video network building on the foundation of Tucows.com. More information can be found at http://tucowsinc.com.
About tyBit:
tyBit is a member of the Interactive Advertising Bureau an industry trade association dedicated to the highest standards in online advertising. tyBit Inc. began development of its search engine and social network in early 2006 and completed the beta trial in the third quarter of 2008. Currently tyBit has achieved more than 75 million searches per month. tyBit actively seeks business to business relationships and delivers a revenue share to participating partners. More information can be found at http://www.tybit.com.
Contacts:
Alphonso Whitfield
tyBit Inc.
910-321-1349
Lawrence Chamberlain,
The Equicom Group for Tucows Inc.,
416-815-0700 ext. 257
Kitti Jo Finch
General Manager
tyBit Inc.
1-877-404-7250
# # #