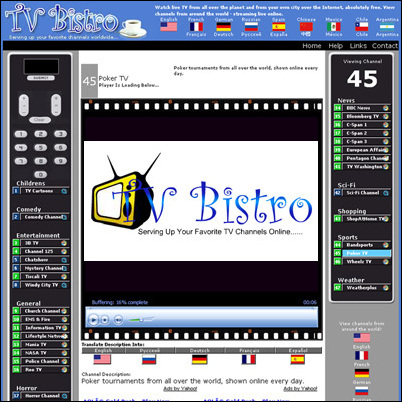 The goal of the website is to allow people to view channels over the Internet from around the world at absolutely no cost
Rockville, MD (PRWEB) October 24, 2006
TvBistro (http://www.TvBistro.com) is taking the online video craze to the next level, by offering free worldwide Internet TV channels from 15 countries and in six languages. The service allows viewers completely free access to live online video from a variety of Internet TV channels, including the BBC, C-Span, and the Sci-Fi Channel. Hundreds of TV channels are currently available.
Online video is a hot topic these days, from Google's purchase of YouTube, to MTV bringing online video content to China, to Universal Music filing lawsuits against online video sharing sites Grouper and Bolt. Amidst all of the user-generated content and online video controversy, TvBistro.com aims to make the trend fun and simple for viewers by providing free access to their selection of Internet TV channels.
"The goal of the website is to allow people to view channels over the Internet from around the world at absolutely no cost," according to TvBistro's founder, Yevgeniy Leshchinskiy. "Our website allows the user to have a much greater choice of the channels they can view online. Cable and satellite dish service can be expensive, and usually do not provide anywhere close to the selection of foreign language stations we are offering on TVBistro.com. We are focused on providing a large selection of stations, while also showing channels not available through normal television outlets."
In response to the popularity of music and entertainment-oriented online videos on sites like online video pioneer YouTube, TvBistro is offering dozens of music channels, providing more music videos than even the most popular cable music networks. Users are able to access a wide variety of music videos on channels such as Evolving Artist, Ministry of Sound, E-music, and Music Plus TV, catering to diverse musical tastes.
The large selection of international online videos not only provides English-speaking viewers with a chance to watch live Internet TV from other countries, but also allows people who have relocated across the globe to catch up on some of their favorite TV shows from their home countries. Each international section of the site is available not only in its native language, but also in English. Currently, the site features worldwide Internet TV channels from countries including France, Germany, Russia, Spain, China, Mexico, Chile, and Argentina. The site plans to increase its international appeal with the launch of a Latin American portal providing online video from Latin American countries in both Spanish and English.
TvBistro uses the full advantages of online video to provide conveniences that regular television just can't. The site makes it possible for viewers to watch free Internet TV channels from anywhere they can access a computer. Standard media viewers are used, meaning the site doesn't require users to download special software to view the online videos. It's as simple as clicking on the channel they want to watch, and the live video starts playing. The ease of use makes TvBistro ideal for situations when a regular TV isn't available, such as during a lunch break in the office or while traveling out of your own country when you'd like to follow the news, sports or other shows.
About http://www.TvBistro.com
TvBistro.com is an Internet television website, providing free access to hundreds of TV channels from around the world. The site features live TV channels from 15 different countries, and is available in six languages. A variety of content is available to users for free, ranging from cartoons and comedy to religious programming, news, and sports. Some of the featured channels are BBC, C-Span, and the Sci-Fi Channel. The service was launched in September 2006 by Yevgeniy Leshchinskiy.
For additional information on TvBistro.com or any of the hundreds of free online video channels available, please visit http://www.TvBistro.com, or contact Yevgeniy Leshchinskiy at 301-591-4049.
# # #