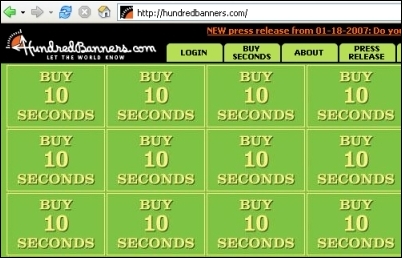 How to improve HundredBanners.com? Your opinion.
(PRWEB) January 30, 2007 –
HundredBanners.com represents a brand new evolution in internet advertising. Users can buy a banner on a 10x10 grid for 10 seconds. Unlike static pixel ad sites, HundredBanners.com offers a dynamic, ever-changing environment for users to display their internet advertising. HundredBanners.com is the first online advertising site to offer a venue for people to buy both space and time.
The new site is the work of a student, Mykola Ponomarenko, a junior specializing in Marketing at Kansas State University. The sheer ingenuity of the site is the work of a young mind full of new ideas and determination to make his mark in the business world.
HundredBanners.com offers the following unique features:
1.Pricing – HundredBanners.com offers flexible pricing based on the amount and time of day you choose to reserve a banner. There's no minimum purchase and a sliding scale based on the time of day an ad runs.
2.Revisions – On HundredBanners.com, internet advertising is never static. Change the picture and the link on a banner at any time. Use a square to publicize different promotions or use a square to run ads for different businesses with the same owner.
3.Possibilities – Because HundredBanners.com changes every 10 seconds, advertisers can group banners at different times and in different places to create unique advertisements not possible elsewhere.
4.Measurement – As part of buying a banner, users get full access to statistics designed to show how successful their investment in HundredBanners.com has been. All users will find a report showing how many people have linked to their ad and how many clicks their ad has received.
5.Size of field – HundredBanners.com offers internet advertising in an area of 1,250x800 pixels. While the industry standard is 1,000x1,000 pixels, the larger area is closer to the average screen resolution of 1,280x1,024 pixels.
6.Banner size – Individual ad spaces are 125x80 pixels and offer ample room for users to include all pertinent information about their business. Buyers can match text and pictures to ensure their internet advertising has the greatest impact.
7.Discounts – HundredBanners.com offers a variety of attractive options for for advertisers to find a number of attractive and cost-effective discounts. Users who purchase an ad for four years will receive a 25% discount. If a user purchases 100 units in a single transaction, they are also eligible for a discount. Each month, the single largest buyer will get the chance to post a press release and other information about their company on the site and will have a discussion topic about their company opened in the community forum. Cash is paid within 48 hrs. of making payment.
From now until March 1, all buyers will receive cash back on their investment. Users spending $100 will get 5% back while users spending $1,000 will get 30% cash back. In addition, over the next three months, all users are invited to post in a special topic within the forum, "How to improve HundredBanners.com? Your opinion." One user offering the best suggestion for improving HundredBanners.com will receive a $500 prize and see their idea integrated into the site.
Having a banner on HundredBanners.com will become the new standard for internet advertising. Get in on the ground floor today. Visit http://www.hundredbanners.com
Contact:
Mykola Ponomarenko
HundredBanners.com
978-505-2407
ponomarenkon yahoo.com
###