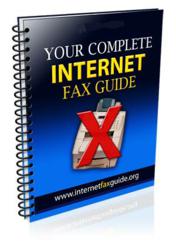 Internetfaxguide.org recently updated its site to further help its visitors find the right online fax service for their needs.
(PRWEB) February 14, 2012
Recently, Internetfaxguide.org updated its Internet fax services reviews and guide. This handy free Internet fax guide is very comprehensive and covers all aspects of this new more modern way of faxing. Both the site and guide were updated to reflect recent changes in many of the service plans offered by the different online providers.
In addition, new changes and content were added to take advantage of the Panda Algorithm Updates done by Google in the past year. "Google is constantly changing the ranking factors which it uses to judge web sites," states Titus Hoskins, who runs Internetfaxguide. "So changes were needed to make sure all the content was unique and the site didn't receive any duplicate content penalties."
The site was created in 2008 and is now entering its fifth year online. It offers a handy free fax guide which can be downloaded by its visitors to help them choose the right online fax service provider for their needs. The site also offers a handy online Comparison Chart so these visitors and potential customers can see at a glance the different prices and features offered by these online providers.
In case anyone reading this is not familiar with these web based faxing services, just remember online faxing is done through one's email account and web connection. The potential user still obtains a local or toll-free fax number, when a fax is received, the provider will send the user an email with the fax attached, usually as a Tiff or Pdf file. One can also log into one's online account to read or send a fax from this location.
Internetfaxguide.org was founded to provide potential users of these services, a convenient way to process all the different fax plans and providers currently on the market. A well informed knowledgeable buyer will make a better purchasing decision when it comes to acquiring an online fax service than an uninformed buyer. Remember, this will be an ongoing business expense, so doing a little research now could pay big dividends down the road.
About The Site: Internetfaxguide.org was founded in 2008 and thousands of visitors have downloaded the handy Free Internet Fax Services Guide. This guide will help any potential customer/client of these fax services find the best provider to perfectly match one's needs. The URL is: http://www.internetfaxguide.org
###