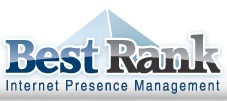 Jason not only brings a wealth of experience to Best Rank, but also an extensive network of top-notch industry contacts.
San Diego, Calif (PRWEB) April 20, 2011
Best Rank, Inc., a San Diego Internet Marketing Company has brought on proven sales, marketing, and ecommerce specialist Jason Kreidman as Vice President of Business Development. As the Internet marketing industry changes, Best Rank continues to evolve with the changes, bringing on experienced team members as a way to remain ahead of the competition.
Jason Kreidman brings 14 years of experience building, managing, and marketing websites, with an extensive focus on ecommerce SEO and SEM. Prior to Best Rank, he operated his own successful ecommerce marketing business. While managing sales and production, he collaborated with Best Rank on a few projects, and saw a team with the potential to provide the production and client management he was looking for.
"In running my consulting firm, I was responsible for both sales and technical implementations," Kreidman explains. "I wanted to re-focus my efforts solely on sales and business development. To do that, it was essential for me to find a great support team with expertise and depth. I found that with Best Rank. Best Rank was looking to continue to expand its sales and professional relationships in the market and saw a need in the ecommerce industry. It was a great fit."
As the ecommerce SEO specialist at Best Rank, Kreidman is concentrating on generating strategic partnerships with agencies and design firms throughout the industry as well as assisting ecommerce clients with their SEO and SEM campaigns. His ecommerce SEO experience will add a much-needed dimension to the ever-growing services available through Best Rank.
"Best Rank has become a leader in the Internet marketing space because it continuously invests in client services and employee talent," states Matt Walker, owner and CEO of Best Rank. "Hiring Jason is no exception. Jason not only brings a wealth of experience to Best Rank, but also an extensive network of top-notch industry contacts. We're very excited to have Jason on the Best Rank team."
The change is one of many taking place throughout businesses across southern California as they strive to provide the best Internet marketing services possible in a rapidly expanding industry.
About Best Rank, Inc.
Founded in 2007, Best Rank continues to break ground on new Search Engine Optimization & Marketing methodologies. Based in San Diego, they currently have offices in New York City and Phoenix. Specializing in SEO/SEM management services, strategic website design, and Internet consulting, Best Rank provides clients with cost-effective solutions and measurable results. Some recognizable clients include Jerome's Furniture, SPARK School Specialty, Erchonia Laser Healthcare, and Nidek. For more information, please visit http://www.bestrank.com.
###