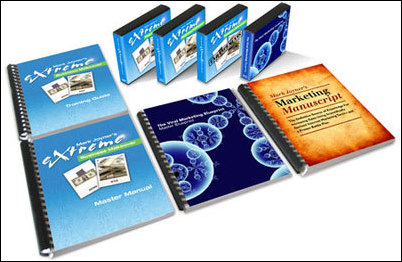 I will be stunned if you don't triple or quadruple your results, at least, with this information!
(PRWEB) August 8, 2006
How does one turn a good business into a really great business? That's easy. Use Mark Joyner's Extreme Business Makeover, a business improvement program presented by the very best brains in online internet marketing - people that have made millions in profit for businesses all over the world!
As co-author Mark Joyner himself put it: "I will be stunned if you don't triple or quadruple your results, at least, with this information!"
So, how does it help? It throws business owners idea after idea. It challenges them and shows them direct marketing techniques that they can implement immediately to optimize the value of their ideas, increase receptivity to their online business messaging, broaden their internet marketing strategy and send productivity and profits soaring … simply by doing everything a little (or a lot!) better.
Extreme Business Makeover is a personal guide to the immense profit opportunities that are available from internet marketing online. It's not a what to do waffle, but a real how to do it guidance program.
What can be learned from it? Why do most business owners work 100 times harder than they need to? The blueprint for internet prosperity, how to increase sales by over 200% and get a 77% response rate. How to drive huge volumes of traffic to a website and substantially improve conversions. How to optimize a business for ultimate efficiency ... the answer to these and a million other things are given, all of which make immense and measurable differences to the way a business works and how successful it can be and become!
"I'll be earning ten times more this year because of Mark Joyner.''
Mike Filsaime, Founder of butterflymarketing.com
Extreme Business Makeover will challenge, provoke, inform and enlighten. It also contains stiff doses of honest business truth, so if an online business is not ready to substantially improve its profits and performance, then it is not ready for the knowledge it contains.
As co-contributor and internet marketing legend Mark Joyner Says: "I think this is a journey you have to take because these are the secrets that every business needs to succeed in the way that you truly believe that it should."
If online businesses want this absolutely vital business information - if they want to clean up, without messing up - then it's time they got their hands on this "essential" business guidance program.
To see how online businesses can optimize their internet marketing strategies visit: http://www. extremebizmakeover. net.
###