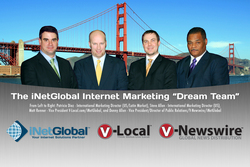 iNetGlobal™ shows small business and individuals how to market themselves on the Internet by using iNetGlobal's™ proven online Marketing tools.
Santa Clara, CA (Vocus) February 4, 2010
The iNetGlobal™Freedom Conference World Tour – West Coast continues with another exciting 2-day event featuring "iNetGlobal's™ Dream Team of Internet Marketers.
Fresh from the Pasadena conference on January 30th and 31st, iNetGlobal's™ "Dream Team" will return to California for an exciting business opportunity meeting in Santa Clara to introduce iNetGlobal's™essential online marketing tools. This meeting is open to the public.
iNetGlobal's™ "Dream Team" of Internet Marketers will hold a business opportunity meeting this weekend on Saturday, February 6th and Sunday, February 7th at the Hilton at Santa Clara, located at 4949 Great American Parkway, Santa Clara, CA 95054 from 9:00 a.m.-5:00p.m.
"The iNetGlobal™ 2010 Freedom Conference World Tour West Coast" will be hosted by Patricio Diaz, International Marketing Director (Latin/US Markets) with Steve Allen, International Marketing Director (US Markets) with a special presentation by V-Local's vice president Matt Renner.
iNetGlobal's™ international marketing director Steve Allen says, "The iNetGlobal™ essential Internet Services provide the best in online advertising. With over 50,000 members we look forward to presenting iNetGlobal's™ online business opportunities."
Also, at this conference, iNetGlobal's™ Donny Allen, V.P./Director of Marketing and Public Relations will introduce V-Newswire™; V-Newswire™ is iNetGlobal's™ Global News Distribution Network and part of the V-News Network providing a top-of-mind press release service.
Patricio Diaz, International Marketing Director says, "iNetGlobal™ members make more than $5000 per day with our essential online products."
The iNetGlobal™ 2010 Freedom Conference World Tour-West Coast will present special opportunities and training on iNetGlobal's™ member services.
*Lunch will be provided both days. Come early, registration starts at 8:15 a.m.
The Freedom Conference starts Saturday and Sunday at 9:00 a.m. (Pacific). You can also view the conference via the Internet at http://www.inetglobal.com .
Saturday Morning Session (Opportunity Meeting) is free to all Members and Guests to attend. *Tickets are available for $50 at the door for the training meeting. All Access VIP Tickets -- $100 -- Includes VIP Dinner Saturday Night. (Participants will need tickets to attend the Training Sessions -- Saturday Afternoon -- All Day Sunday).
The morning session will be broadcast live at http://www.inetglobal.com .
About iNetGlobal™
iNetGlobal™ is a global Internet Service Company that provides essential services for its target market -- entrepreneurs, home-based businesses, small businesses, and corporations -- all those who need to market on the Internet. These "V" core services include -- V-Webs™, V-Mail™, V-Webcast™, V-Newswire™, V-Local™ and V-Shops™ -- in addition to its online advertising services make up the bulk of the company's business. Through its humble beginnings in 2006, iNetGlobal™ finally perfected what is now its current product lineup in July 2008. Since introducing the iNetGlobal™ services, the company has become one of the fastest growing Internet service companies in the United States with over 50,000 members and $1 million dollars in sales daily.
iNetGlobal™, it's products and services are division of the Inter-Mark™ Corporation, Las Vegas, Nevada.
###