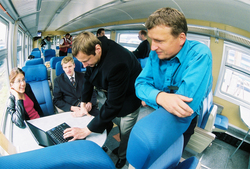 It is no surprise to find free WiFi networks even in the remotest parts of the country
Tallinn, Estonia (PRWEB) April 30, 2009
Freedom House carried out the Internet survey "Freedom on the Net" based on 15 countries in order to provide a comprehensive look at the tactics used in different countries for controlling the information flow transferred through Internet and mobile technologies. The Freedom on the Net index aims to measure each country's level of Internet and digital media freedom on the basis of two key components - access to the relevant technology and the free flow of information through it without fear of repercussions.
The study covers repressive countries as well as democratic ones, finding some degree of Internet censorship and control in all 15 nations studied. Based on the results the countries were divided into three: free, partly free and not free countries. The other free countries after Estonia (10 points out of 100) were UK (20 p), South Africa (21 p) and Brazil (26 p). Kenya, India, Georgia, Malaysia, Turkey, Egypt and Russia ranked as partly free, and Iran, China, Tunisia and Cuba (90 p) as not free.
As shown in the Internet survey, Estonia ranks among the most wired and technologically advanced countries in the world. The first Internet connections in the country were introduced in 1992. According to Estonia's president, the country's status as an "e-country" is due in large part to the disastrous condition of the country's infrastructure in 1991 following nearly 50 years of Soviet control. In an effort to integrate Estonia into the global economy, the government initiated a program entitled Tiger Leap that aimed to computerize and connect all Estonian schools with the Internet by 2000. This program helped to build competence and awareness about information and communication technologies, and the development since then has been rapid. The Internet is regularly accessed by two-thirds of Estonia's population, 58% of households have Internet access, the number of mobile phone subscribers is higher than the population. The country has developed a system of 2.5G and 3G mobile data networks for widespread wireless broadband access, one of the most prolific digital media markets in the world. In August 2008, the government announced that by 2009 the country would have 2,000 free certified WiFi covered areas meant for public use. In addition, the countrywide wireless Internet service based on CDMA technology has been deployed.
Today, with such a high level of computer literacy and connectivity, focus has shifted from basic concerns such as access, quality, and cost of Internet services to discussions about security, anonymity, the protection of private information, and citizens' rights on the Internet.
Margus Reinsalu confirms from his personal experience that Estonia is indeed among the ICT pioneers of the world. "It is no surprise to find free WiFi networks even in the remotest parts of the country," says Reinsalu.
For more information on the Internet survey and the country's level of digital media, go to http://www.freedomhouse.org/template.cfm?page=383&report=79&group=19
Published by: KC Grupp and Corpore.
###