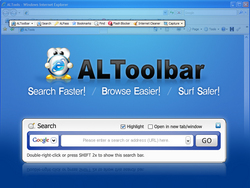 (PRWEB) January 30, 2008
ALToolbar is ESTsoft's new suite of tools to speed up and enhance Internet related tasks. Packaged as an addin for Internet Explorer, it runs on Windows 2000/XP/2003/Vista, x86 and x64 editions.
The suite of tools in ALToolbar enhances and improves how people do common Internet tasks, including search, login and navigate. ALToolbar also lets people maintain privacy, increase online security, and interact with web pages in faster and easier ways.
While meeting the traditional ALTools standard of powerful simplicity, some of the more convenient and powerful features are easily learned in one or two minutes. The strong emphasis on usability extends past simply running inside the browser though; it brings users into the cloud where they can keep and access important information from anywhere online.
The core of its faster search and navigation are ALToolbar Search Bar and ALToolbar's Mouse Gestures. Combined, these tools easily cut down the time needed to search/navigate by half and usually much more. Moreover, learning how to speed up Internet usage with ALToolbar is accomplished in less time than it takes to load Windows.
Notably, ESTsoft has rolled ALPass, their popular password manager, into ALToolbar as "ALPass Online". People can now securely save and access all their web site logins online from anywhere. ALPass Online also includes anti-phishing protection for registered web sites to help protect people from login and identity theft.
Security in ALToolbar (and for ALPass Online) uses SSL and ARIA 256 strong encryption with a shared secret to ensure that only the user ever knows their password. Consequently, passwords cannot be retrieved, but can be reset at the cost of losing all ALPass Online and Online Bookmarks data.
Other tools in ALToolbar let people keep Internet Explorer running smoothly and cleanly to maintain privacy, save and synchronize bookmarks, capture full web page screenshots, block annoying Flash ads, re-enable right-click menus, and a Find bar that sits at the top of the browser window instead of floating aimlessly in the middle of the page.
The Korean and Japanese versions of ALToolbar include an in-page English-Korean/Japanese dictionary with audio pronunciation guide. And while not available in the English version yet, the Korean version includes a small online disk to quickly save files so that they can be accessed from anywhere, like a virtual USB flash drive.
Like all ALTools, ALToolbar is available for free at http://www.altools.com .
About ALTools
ALTools are free utilities and multimedia programs designed for simplicity while maintaining powerful functionality, ideal for novice and expert computer users alike.
About ESTsoft
Established in 1992, ESTsoft is a leading Korean software developer based in Seoul. ESTsoft products include the ALTools family of PC software, InternetDISK and iDISK virtual web storage solutions, and CABAL Online.
Contact
ALTools Support
ESTsoft Corp.
support@estsoft.com
http://www.altools.com/
###