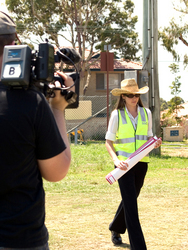 If a picture is worth a thousand words - what is a video worth?
Sydney, Australia (PRWEB) June 18, 2008
With traditional media struggling to capture the attention of the You-Tube generation, Sutherland Shire Council recently hired professional corporate video producers Ridge Films to develop a promotional web-video to attract new staff.
Like government authorities around Australia and the world, the Council faces a skills crisis as one third of its 1500 staff retire within five years.
"Using a You-Tube style video is a great way to get a message through to a younger audience," says Brendan Southall, Executive Director.
The web video is hosted on the Council's own site (with a copy already appearing on You-Tube) and net-savvy school-leavers are expected to hit the site in droves.
As the web becomes more crowded (three-quarters of the estimated 100 million websites on the net are commercial), companies need a point of difference to stand out from the pack.
And Ridge Films have already spotted a noticeable shift in their client's needs, with many corporate customers moving away from developing long promotional DVDs and requesting short, smart, slick web-friendly video.
"Amateurish video won't cut it, you need to present professionally, get your message across quickly - and above all, to entertain," says Brendan.
"If a picture is worth a thousand words - what is a video worth?" he adds.
Brendan Southall and Chris Schwager are available for telephone interview on +61 (02) 9525 1344 and in-studio appearances in the Sydney metropolitan area. They are expert commentators on professional corporate video production in Australia and can comment on internet video, promotional video and training video production.
About Ridge Films:
Ridge Films is an award-winning Sydney-based corporate video production company, their staff has extensive film industry experience and the team has racked up over 200 corporate video credits in the last five years.
###