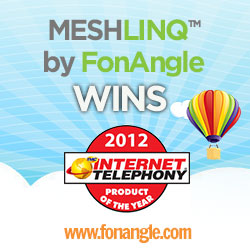 MeshLINQ is the perfect solution for companies that need a faster and more reliable internet connection.
New York, NY (PRWEB) April 03, 2013
FonAngle announced today that TMC has named FonAngle's internet bonding solution, MeshLINQ™, as recipient of the 2012 INTERNET TELEPHONY Product of the Year Award.
MeshLINQ, FonAngle's exclusive internet bonding technology provides customers the dual benefit of optimized bandwidth capacity and rock-solid reliability. MeshLINQ™ also offers full 2-way QoS, a luxury previously seen only in MPLS connections, and MeshLINQ's next generation QoS engine keeps network traffic in check and minimizes disturbances which makes it ideal for applications like Hosted PBX and business critical Cloud Apps, which depend on a well-tuned network. The remarkable QoS engine constantly monitors all connections and proactively avoids disturbances that damage application quality.
"It is with pleasure that we recognize FonAngle with a Product of the Year Award. The editors of INTERNET TELEPHONY have verified that FonAngle's MeshLINQ™ displays quality and innovation while providing solutions to real business communications challenges," stated Rich Tehrani, CEO, TMC. "I would like to congratulate the team at FonAngle for their commitment to advancing IP communication technologies."
FonAngle's dedication to providing top-quality IP communication services continues to land them high-profile customers. Virtualization software developer Liquidware Labs recently praised FonAngle's Hosted Office Phone System in a story on FonAngle's blog. Liquidware Labs CTO Jason Mattox found FonAngle's customer service to go "above and beyond."
"More and more businesses are moving to cloud based applications that require lots of high quality and reliable bandwidth," said FonAngle CTO Chris Meyers . "The demand is there, but most companies have found it too expensive to have both reliability and high-volume bandwidth. With MeshLINQ™, any business can now have both and more."
Meyers expressed his gratitude for receiving the TMC 2012 Product of the Year award, and added: "You can expect more great things from FonAngle in 2013. We intend to take home this award again next year."
Business VoIP revenue reached $49.8 billion in 2010 and is expected to hit $75 billion within the next three years. Mobile VoIP, also available through FonAngle, is expected to reach 180 million users in the next three years. This is due in part, Meyers said, to publications like Internet Telephony Magazine providing the facts about the reliability and low-cost of Hosted PBX / Business VoIP solutions.
FonAngle has also built a strong reputation for HoPs (Hosted Office Phone System™), their customizable high-quality Business VoIP solution; FreedomSIP™, their SIP Trunking service; and for their fast and reliable business internet service offerings.
2012 Product of the Year winners are published in the January/February 2013 issue of INTERNET TELEPHONY magazine. INTERNET TELEPHONY has been the authority in IP communication since 1998™.
About FonAngle
FonAngle Communications is an award-winning Business VoIP leader for small to medium sized businesses. Their unified communication solution, "Hosted Office Phone System™ (HoPs)" is an enterprise class platform that combines voice, fax, instant messaging, presence, mobility, conference and web integration into one streamlined system. FreedomSIP™, their SIP Trunking solution, is another business phone solution that promotes efficiency and flexibility; allowing customers to extend the life of their legacy equipment and benefit from huge costs savings. As a company focused on Quality, Support & Value, customers rave about how FonAngle increases productivity and saves them money.
For more info please contact:
Media Relations
FonAngle
212-920-4340