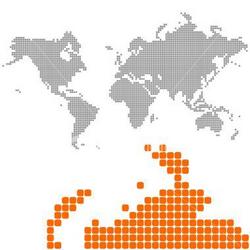 I've created a blueprint for success that lets chiropractors start with nothing and have the potential to develop an income stream of $1,000, $5,000 and even $30,000 per month
Atlanta, GA (PRWEB) February 4, 2010
It was just last month that Dr. Matthew Loop announced his Total Immersion Marketing Day, an intensive traveling coaching program devoted to showing chiropractors and other serious professionals methods for utilizing social media to build a thriving Internet business.
Now, with the launch of his new affiliate / internet marketing for chiropractors website, "DCincome Club," the noted social media and information marketing veteran has gone full tilt towards ensuring that chiropractors have every opportunity to successfully use the internet to create what he calls "a personal, Push-Button Payday."
From his office in Atlanta, Georgia, Loop says, "I've created a blueprint for success that lets chiropractors start with nothing and have the potential to develop an income stream of $1,000, $5,000 and even $30,000 per month. To do so, chiropractors have to learn how to leverage what they already have to create a successful affiliate marketing business that generates passive income."
Loop offers his groundbreaking ideas through what he calls an "Online Income Blueprint" exclusively to DCincome Club members. The blueprint is made up of a few, very specific action steps that can be utilized to generate big profits with affiliate marketing. With his flexible system, people can run their online business from anywhere in the world that they can access the internet. With no inventory to stock, no payments to collect, no selling or shipping of products, the DCincome Club offers an easy and direct method for making money.
For those who think that this is a get rich quick scheme, Loop says, "No, the online income blueprint that I've developed is practical, real and it does take effort and time to implement it. Each person can work at his/her own pace. Success won't occur overnight, but it will happen if you take action and once your business takes off with some care and attention it will expand your income base."
Loop, who is a Doctor of Chiropractic, knows firsthand that chiropractors may be trained to help people heal but they receive precious little to no business instruction. Between daily expenses, the constant battle with and waiting for health insurance companies to reimburse them and the lack of understanding on how to harness and expand their client base, he sees that his colleagues can benefit greatly from an innovative online marketing program such the DCincome Club.
For more information on this first-of-a-kind program in internet marketing for chiropractors go to http://DCincomeClub.com right now.
# # #