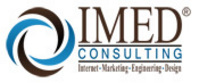 I look forward to assisting our many clients with writing to bring more traffic to their websites and for them to become more well-known
Tea, SD (Vocus) June 10, 2010
IMED Consulting LLC, a leader in internet marketing for the mobility industry, recently added two Augustana College (2010) graduates to its team to meet the demands of the ever growing business. Alexis Clark will be a Google Advertising Professional (GAP) and Erin Mangen the Professional Writer.
Clark majored in business administration with an emphasis in management and a minor in psychology. She is originally from Watertown, SD. As the GAP, Clark will work as a liaison between Google and regional businesses to help grow their online presence. Currently only 200 companies in the nation receive direct support from Google, IMED being one of them. With 88 billion searches per month, Google is a must have in today's ever evolving online marketing environment.
"I really enjoy getting to learn more about the website structure and analysis of keywords and competitors," Clark said. "I am very excited about getting started in the Google Professional aspect of the job and helping small businesses in the area get more exposure to potential clients. I love being involved in a company that is in so many aspects a part of cutting edge technology."
Mangen is originally from Fairfax, MN and double majored in journalism and English with an emphasis in writing. As the Professional Writer, Mangen will be writing content for IMED clients in a variety of capacities. Search Engine Optimization (SEO) is a key factor in obtaining a quality "rank" for your website. Mangen will assist clients in writing keyword friendly content for their websites, blogs, and press releases.
"I look forward to assisting our many clients with writing to bring more traffic to their websites and for them to become more well-known," Mangen said. "IMED is paving the way for future internet marketing strategies in South Dakota and the nation. I have a passion for writing and communicating and am excited to help IMED grow."
About IMED Consulting: IMED Consulting offers a variety of solutions for mobility dealers looking to leverage the power of Internet marketing. IMED Consulting offers design, email marketing, SEO, SEM, consulting, development, inventory management and more. For more information, visit http://www.imedconsulting.com.
# # #