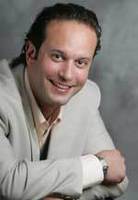 Boca Raton, FL (PRWEB) February 16, 2010
Jay Berkowitz, business keynote speaker and top Internet marketing strategy consultant, will be sharing two presentations during the annual Independent Jewelers Organizations event taking place in Dallas, Texas on February 20 & 21, 2010. The first presentation, "The Ten Golden Rules of Online Marketing," will explore the top tools and ideas for marketing on the Internet and the second presentation, "Web Futureology," explores web marketing through social media, Facebook, Twitter and other emerging new media.
"Every day there are new applications and ideas for marketing on the Internet. The presentations will share easy to implement strategies to promote small business websites on Google and the popular social media vehicles such as YouTube, Facebook and Twitter," said Jay Berkowitz, award winning Internet marketing strategy consultant."
Jay Berkowitz will present, "10 Golden Rules of Internet Marketing," featuring the top ideas for marketing on the Internet. The business and keynote speaker will focus on the latest tools that business owners should be using to garnish traffic and conversions to their websites on the web. The second presentation, "Web Futurology: Discover The 10 Trends That Will Define Your Business And Personal Future," showcasing the top social media websites for business and how to generate money from them. Berkowitz will explore what innovators are driving successes online and explain the future of Google and their challengers.
About Master IJO Jewelers:
Master IJO Jewelers is an elite group of retailers hand-selected for membership in the Independent Jewelers Organization (IJO). IJO is an organization which only accepts jewelers with the highest ethical standards and superior professional integrity. IJO provides marketing and educational opportunities to over 1,000 members worldwide.
About Ten Golden Rules:
Ten Golden Rules, founded by business keynote speaker, Jay Berkowitz, is a South Florida based internet marketing promotion and strategic consulting business based in Boca Raton, Florida. This search engine marketing consulting firm helps companies develop strategies and ideas for marketing on the Internet for driving more website traffic, using innovative SEO tactics while creating online advertising ideas and best practices for marketing on the Internet. The 10 Golden Rules Internet Marketing Podcast is available at Podcast.TenGoldenRules.com and on iTunes. For more information please visit TenGoldenRules.com.
About Jay Berkowitz
Jay Berkowitz has been recognized as one of the top business and keynote speakers and Internet marketing strategy consultants in South Florida and around the globe. As a business leader, he has managed marketing departments for Fortune 500 brands: McDonald's Restaurants and Coca-Cola, and has managed online and offline programs for AT&T, Sprint, and leading health and fitness website eDiets.com. Most recently, Jay received the Gold Coast PR Councils PR Star Award and has developed the InternetMarketingClub.Org.
###