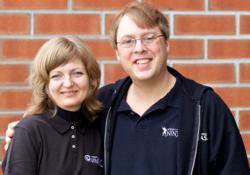 I've worked for a few Internet marketing companies around the globe, but Internet Marketing Ninjas is the only one for which I was eager to move to and become a part of. - Ann Smarty
Clifton Park, NY (PRWEB) October 11, 2012
Internet Marketing Ninjas, an industry leading Internet marketing company, is excited to announce that blogger, writer, social media influencer, and SEO expert, Ann Smarty, has relocated from her home in Kharkiv, Ukraine – halfway around the world – to settle in upstate New York to work as a full-time member of the Internet Marketing Ninjas team. Smarty will be joining the executive staff as the company's Branding & Community Manager. She has been a featured guest blog contributor with IMN for the past nine months and will continue to share her SEO knowledge through the Internet Marketing Ninjas' blog and their communities; she will also be instrumental in client community development and website analysis.
"I'm thrilled to have Ann, who is so knowledgeable in the art of online marketing and in community building, working by my side," said Internet Marketing Ninjas' Founder and CEO, Jim Boykin. As Branding & Community Manager, Smarty will be working on the IMN community, and other communities recently bought by IMN. She will also be working with IMN clients to build brand awareness and develop community engagement. She will also be assisting with the websites, communities, and networks recently acquired by Boykin and IMN, including Cre8asiteforums, SEO Chat forums, and other websites within the Developer Shed Network.
"I've worked for a few Internet marketing companies around the globe, but Internet Marketing Ninjas is the only one for which I was eager to move to and become a part of. Jim was the first person I learned from when entering the SEO industry, so I am very excited to have the opportunity to work next to him now," said Smarty, regarding her relocation and involvement with Internet Marketing Ninjas. Having been a featured guest blogger with Internet Marketing Ninjas since January of 2012, the move to New York will allow her to share her expertise and take on a more prevalent role within IMN and their clients' sites.
Smarty's years of online marketing experience will also benefit the IMN analysis and client reporting team, and will be a vital aspect of the company's future marketing tools development. Known for their Internet marketing services, community building, and Internet marketing tools, IMN is continually creating new tools to assist webmasters and clients to improve their websites. "Ann has reviewed more Internet marketing tools than anyone in the world," said Boykin, "as well as having developed several amazing tools and applications of her own to assist with analyzing websites. I can't wait to utilize her skills in new tool developments."
About Internet Marketing Ninjas
Internet Marketing Ninjas is a full service Internet marketing company located in upstate New York, having started in the online marketing business in 1999 under the name We Build Pages. Founder and CEO Jim Boykin has built a team of specialty trained marketing ninjas with expertise in link-building, SEO analysis, social media, content development, usability/conversion analysis, and local marketing. Internet Marketing Ninjas is a results-driven company focused on search engine visibility, social media visibility, overall branding visibility, towards relevant traffic and sales to clients' websites. Boykin also recently acquired Cre8asiteforums and the Developer Shed network of sites and forums, including SEO Chat and Dev Shed, which provide a wide range of information and instruction related to programming, web design, and SEO/SEM practices.
About Ann Smarty
Smarty, also known as "SEOSmarty", has been sharing knowledge and advice through her personal blog, SEOSmarty.com, and through several other industry related websites. Smarty is the former Editor-in-Chief of Search Engine Journal (SEJ), and she still regularly contributes articles to SEJ, and to several other industry websites. Smarty previously worked at BlueGlass Interactive, Inc., for which she was the Director of Media and brings with her to New York her husband and young daughter.