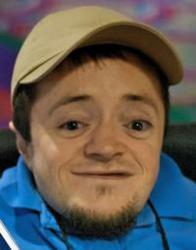 When Jim explained to me his vision of the industry and the future of Internet marketing, I knew instantly that Internet Marketing Ninjas is where I belong. I am extremely excited to be working with such an awesome team... - Joe Hall
Clifton Park, New York (PRWEB) December 17, 2012
Internet Marketing Ninjas (IMN), a diverse and fast growing full-service Internet marketing company, announced the addition of Joe Hall, former CEO and founder of 22 Media LLC, and creator of Whostalkin.com, to the IMN staff. As the newest member of Internet Marketing Ninjas, Hall will be contributing as the company's Senior Marketing Analyst and will be using his diverse skill set to elevate client services to the next level.
"We're thrilled to have Joe working with us," said Jim Boykin, CEO and founder of Internet Marketing Ninjas, "he is one of the brightest thought leaders in the Internet marketing industry, and we're excited to bring his knowledge of SEO and Social media to our team."
Hall's passion for marketing and his unique understanding of the power of social media will elevate Internet Marketing Ninjas' ability to provide clients with advanced Internet marketing and SEO services. Hall will provide valuable insight into new and developing marketing techniques. While working closely with the IMN client analysis team, Hall will be instrumental in the improvement of client marketing strategy and how it is addressed as part of a long term Internet marketing plan.
"When Jim explained to me his vision of the industry and the future of Internet marketing, I knew instantly that Internet Marketing Ninjas is where I belong. I am extremely excited to be working with such an awesome team and I'm looking forward to engaging our clients and the community in a positive way to make the web a better place," said Hall when asked to comment on the development.
In 2007, Hall founded his company, 22 Media LLC, previously known as JOZSOFT, prior to rebranding in 2010. Since then, he has leveraged his background in technology and marketing to help nonprofit organizations and small businesses improve their presence on the Internet, while utilizing different aspects of Internet marketing, including social media, user-friendly, multimedia website development, and content development.
Hall has been hailed as a pioneer in the field of social media marketing and has shared his thoughts on marketing and social media with several SEO and Internet marketing industry websites, including Search Engine Land and Search Engine Journal (SEJ); and his emphasis on the importance of building relationships through social media has impacted the way many view this relatively new niche. "You can't measure relationships. You can't put on paper the depth and complexity of the human experience with a brand. Sure you can track web traffic, click through rates, and even your follower/following ratio. But none of that explains real influence," said Hall in 2011, in a blog post written for Marketing Pilgrim. Hall also created Whostalkin.com.
About Internet Marketing Ninjas
Founded by Jim Boykin in 1999, Internet Marketing Ninjas (IMN) was originally branded under the name We Build Pages, before rebranding in 2011. This full-service Internet marketing company is located in Clifton Park, New York and employs approximately 100 in-house marketing experts who work in areas such as: link-building, SEO analysis, social media marketing, community building, local marketing, and content development. Other notable members of Internet Marketing Ninjas' executive staff include, Jim Boykin, Kris Jones, Kim Krause Berg, Ann Smarty, Bonnie Stefanick, and Jen Van Iderstyne. IMN is a results-driven firm committed to improving clients' website traffic, conversions, and brand. Within the past six months, Boykin and his company have also acquired WebmasterWorld.com, Cre8asiteForums, and the Developer Shed Network of websites and forums.
About Joe Hall
Founder and CEO of 22 Media LLC, Joe Hall, has made many notable contributions to the fields of marketing and technology. As a web marketer and developer, Hall has contributed to popular industry websites, including Search Engine Journal, Search Engine Land, and Marketing Pilgrim. This self-proclaimed "web-head" has committed the majority of his career to the development of tools for ecommerce and nonprofit websites to help them improve their marketing practices and become more empowered on the Internet. Hall is the founder of Whostalkin.com, a social media search tool that allows visitors to access mentions and conversations regarding a specific brand across various popular social media outlets.