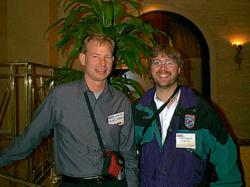 Jim and Internet Marketing Ninjas is the ideal match for WebmasterWorld... I couldn't have asked for a better situation than a long-time member acquiring WebmasterWorld. - Brett Tabke
Las Vegas, NV (PRWEB) October 17, 2012
It was made public during the Pubcon Las Vegas Conference that Jim Boykin, CEO of Internet Marketing Ninjas, has acquired the WebmasterWorld forums, the premiere community for website administrators and marketers, which facilitates the distribution of knowledge related to website design, maintenance, coding, and marketing/promotion.
The acquisition comes on the heels of several recent announcements made by Boykin, including the acquisition of Cre8asiteforums, the Developer Shed Network, and the addition of top SEOs Kris Jones, Kim Krause Berg, and Ann Smarty to the company's executive staff. "2012 has been a major year for IMN and I feel privileged to be a part of WebmasterWorld. I've been a member of WMW for over 10 years, and I've learned so much from so many there. I have so much respect for the community members and it gives me the uttermost pride to be able to work with the community to move WMW into the future. I am very humbled and ready to listen to, and work with, this amazing community," said Boykin.
"Jim and Internet Marketing Ninjas is the ideal match for WebmasterWorld," said Pubcon and WebmasterWorld Founder and Chief Executive, Brett Tabke. "I couldn't have asked for a better situation than a long-time member acquiring WebmasterWorld. I have every confidence that Jim and his crew will give WebmasterWorld the resources and commitment needed to keep the community strong for many years to come," he continued. Tabke and WebmasterWorld have also been instrumental in the development of the Pubcon series of conferences.
Although Tabke has sold WebmasterWorld to Boykin, Tabke will retain full ownership of his other business, the Pubcon conferences. Tabke plans to invest his future efforts primarily into these conferences.
Ted Ulle, known as "Tedster", a top forum contributor, also noted, "I've known Jim Boykin for many years, and I appreciate how much he loves SEO and the forums - one of the best kinds of social media, and one that dates back to before the term 'social media' was invented; and while there's only one Brett Tabke, if there's going to be a change, I'd say Jim is the ideal captain for the ship. I'm excited about the future we can build together, as well as preserving all the good that Brett led us to."
Neil Marshall, Director of WebmasterWorld Forum Operations, stated, "I'm delighted to be involved with Jim and his team at Internet Marketing Ninjas. This is an exciting new era for WebmasterWorld and I'm really looking forward to continuing to develop the site for the benefit of its members, and retaining the site's world-renowned, quality discussion forum for webmasters and their businesses. Thank you to Brett Tabke, for giving webmasters an independent vehicle to meet and to discuss current hot topics, turning the site into a major brand for webmasters. I'm sure the whole team is ready to keep that going forward and to develop new ideas for today's Internet marketing businesses."
FOR MORE INFORMATION REGARDING BOYKIN'S ACQUISITION OF WEBMASTERWORLD, PLEASE SEE THE INTERNET MARKETING NINJAS BLOG AND PARTICIPATE IN THE DISCUSSION:
http://www.internetmarketingninjas.com/blog/marketing/webmasterworld
About WebmasterWorld
Founded in 1996 by Brett Tabke, The forum has grown over the years to be the world's leading forum on Internet marketing. The mission statement shall remain the same, "This site is a service to the web site administrator community. We are here for WebmasterWorld members to discuss the process of doing business on the internet. Running a website takes a great deal of knowledge. The design, coding, maintenance, promotion, marketing, and management of a website is almost an impossible task for one person alone without extensive training. We are here as a forum for the members to share and gain knowledge in operating and promoting a website. Think of us as part of your extended site development and process team. "
About Jim Boykin
Jim Boykin started his Internet marketing career in 1999 by founding, and being the CEO of the Internet marketing company We Build Pages; in 2011, the company rebranded under the name Internet Marketing Ninjas (IMN). IMN is a full service Internet marketing company, located in upstate New York. The IMN team consists of approximately 100 trained, in-house marketing ninjas with expertise in link-building, SEO analysis, social media, content development, usability/conversion analysis, local marketing, and reputation management. In 2012 Boykin announced that Kris Jones has come on as Chairman; and in May, he acquired the Developer Shed websites, which included 7 online forums and several training websites. In September, Boykin also acquired Cre8asiteforums, and Kim Krause Berg. Most recently, Ann Smarty relocated to upstate New York to work with IMN as their community manager.