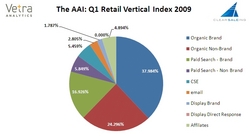 What was also noteworthy was the cumulative impact of multiple marketing and advertising touches from a range of media sources that cause retail customers to ultimately purchase. These sources work synergistically. Remove any one and you can impact the relative influence of all
Las Vegas, NV (PRWEB) September 21, 2009
ClearSaleing, a technology and thought leader in attribution management, and Vetra Analytics, a marketing analytics provider, today published the first ever Internet Retail version of its American Attribution Index (AAI). The Internet Retail AAI measures the relative effectiveness (purchase attribution) of each online media source and influence factor on online consumer conversion, serving as a valuable benchmark for CMOs and marketing executives.
The first Internet Retail AAI, generated from more than 790,135 retail consumer purchase paths during the 1st quarter of 2009, shows that many types of media sources contribute to and influence a consumer's purchase decision. Specifically, branded and non-branded SEO, branded and non-branded paid search ads, comparison shopping engines, email, display and affiliates all play an important role in influencing purchase decisions among retail customers.
ClearSaleing representatives will discuss the Internet Retail AAI with attendees at Shop.org, held at Mandalay Bay in Las Vegas, September 21-23; visit ClearSaleing at booth #346 for more information.
"The particular importance of both branded and non-branded organic search, together representing over 60 percent of the purchase influence factor for retailers, was probably the most surprising result from the initial Retail AAI," says Randy Smith, ClearSaleing's co-founder and President. "What was also noteworthy was the cumulative impact of multiple marketing and advertising touches from a range of media sources that cause retail customers to ultimately purchase. These sources work synergistically. Remove any one and you can impact the relative influence of all," he adds.
"We are very excited to continue the quarterly publication of the American Attribution Indices so we can begin to understand how seasonality impacts consumer purchase decisions and media effectiveness, particularly for retailers during the upcoming holiday surge," says Dr. Purush Papatla, President of Vetra Analytics. Vetra built the sophisticated attribution models that are the foundation of the indices. "By delivering an actionable, retail-specific version of the American Attribution Index, we will help retail CMOs make better media selection and allocation decisions that will positively impact both their top and bottom lines," says Papatla.
ClearSaleing and Vetra will publish the Internet Retail version of the American Attribution Index (AAI) on a quarterly basis using a widget application. They will also publish relevant retail attribution management news and items of interest along with the Index. Subscriptions will be available beginning in the 4th quarter to the Internet Retail AAI.
ClearSaleing and Vetra would like to encourage retailers attending Shop.Org to become members of the AAI group and are offering special charter member subscription rates through October 31, 2009.
Customized Indices
ClearSaleing can also provide etailers with a custom AAI that will take into account the etailer's operation size, its customers' behavioral patterns in the past, its price points and other factors to enable etailers to have an optimum analysis of their ROI performance.
ClearSaleing Attribution Management Platform
The AAI is based on ClearSaleing's attribution management platform technology which allows marketers to design and input their own attribution management model to fit their industry's needs, precisely mapping the Purchase PathTM from a customer's first action to their conversion and attributing a relative value to each marketing element along the way that contributed to that conversion.
About Vetra Analytics
Vetra Analytics is a marketing analytics consulting firm that specializes in analytics R&D, dashboards and customer data-based models. Created by Dr. Purush Papatla, Ph.D., the Vetra team brings years of global consulting and publishing experience to its clients. With this leadership, Vetra has the ability to dig deep into your data repositories and locate key insights that can optimize your marketing decisions, enhance your customer satisfaction and increase ROI on marketing efforts. For more information, please visit http://www.VetraAnalytics.com.
About ClearSaleing
Named "Technology Platform Search Marketers Can't Live Without" at the SES Awards, ClearSaleing's advertising portfolio management platform helps marketers identify ways to more effectively and profitably allocate ad spend across a complex mix of online advertising investments.
ClearSaleing is a thought leader in the growing scientific field of attribution management and publishes http://www.AttributionManagement.com that provides a rich repository of ClearSaleing and externally published articles, white papers and other material focused exclusively on attribution management.
ClearSaleing's unique ability to give marketers telescopic insight into their online ad investment is attracting major brand customers such as American Greetings and Nationwide Insurance. The company was founded in 2006 and is headquartered in Columbus, Ohio. For more information, please visit http://www.ClearSaleing.com.
###