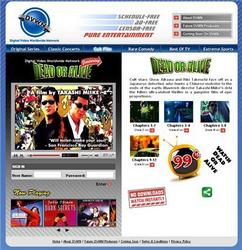 We've done over two million paid downloads and are now getting our legs under us.
Wilmington, North Carolina (PRWEB) May 21, 2008
An online Frankenstein of early MTV, HBO, ESPN and Pay-Per-View, upstart Digital Video Worldwide Network (http://www.dvwn.com) is beginning to look like a monster. CEO David Julius, "We've done over two million paid downloads and are now getting our legs under us." Upon recently completing a year-long beta phase, DVWN is now officially poised as a front-runner in the Internet TV sweepstakes.
Catering largely to an 18-45 male audience, the independent online video network offers an array of extreme programming that, in addition to raunchy originals like Mario the Monkey, includes classic exploitation movies, rock concerts and no-limit sports such as hardcore wrestling and fight clubs. Videos are sold for 99 cents in 24-hour passes on an ad-free, on-demand platform. Customers watch near TV quality streaming video that can be accessed from any PC or MAC and requires no downloads.
Along with debuting more original series this summer, DVWN boldly promises upcoming real-time live events. "Without the restrictions of television and buoyed by the power of Web 2.0, the possibilities right now are endless. Our goal is to always provide our audience with the most entertaining and compelling content found anywhere. If we do that, everything else will fall into place," says David Julius.
With ad-based online efforts from television networks like Joost, MyNetworkTV and Innertube having failed so far to captivate online audiences, it may take DVWN's renegade, rock 'n' roll approach for Internet TV to realize its vast potential.
About DVWN
Digital Video Worldwide Network (DVWN) is the first and foremost independent online network created by entrepreneurs David Julius and Richard Trusky. Censor-free with zero advertising, instantly watch your favorite movies, concerts, shows, and sports from around the world at http://www.dvwn.com.
###