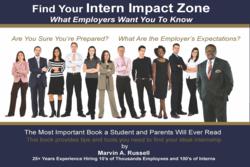 Let's get it straight: An internship is a job, it's not a nice thing to do, it's not an optional thing to do: it's a must thing to do to jump-start your career. However, if you want an internship you have to be prepared, be aggressive and make it happen.
New York, New York (PRWEB) April 09, 2013
Marvin A. Russell debuts his new book Find Your Intern Impact Zone: What Employers Want You To Know.
"Why Did I Write This Book?
Most internships are never advertised!
1. The information available to students normally comes from the perspective of other students, former interns, and school career counselors: not from the perspective of the companies who actually hire interns!
2. My tools and advice in this book come from the perspective and voice of companies and the HR departments that create internship programs and hire these interns each day.
3. Students must know how human resources executives and corporate hiring managers make the decisions as to who should be hired and why some students fail to find internships even when they are smart, bright individuals."
Find Your Intern Impact Zone: What Employers Want You to Know

Available May 1, 2013 in paperback, retailing for $12.95 and eBook formats at $5.95. Discounted purchasing will be available for your university bookstore
Also available Amazon.com, Barnesandnoble.com, dogearpublishing.com and marvrussell.com
Pre-orders orders are available immediately at http://www.marvrussell.com.
Note: In June Marv will be publishing another new title "Employer's Guide to Hiring and Managing Interns," written for employers desiring to create internship opportunities for students - helping these students Find Their Intern Impact Zone!
Marv Russell's previous book, "Linebacker in the Boardroom: Lessons in Life and Leadership" is a best-selling leadership book.
Thank you for helping students Find Their Intern Impact Zone.
About the author: In a remarkably diverse and successful career encompassing multiple industries and continents, Marv Russell has distinguished himself as an internationalist and a multilingual and multicultural professional; including living and working abroad nearly 10 years with several multi-national companies. His career has spanned government, heavy industry, materials and packaging, pharmaceuticals and healthcare as an executive and as a consultant. He has proven success in the deployment of modern leadership and human capital development techniques. Marv's strong leadership combined with his people and business acumen are key to his ability to coach and create high performing leaders.
Possessing the tenacity to persevere academic life combined with the rigors of Division 1 football, Marv was a successful student-athlete at the University of Notre Dame, played middle linebacker, and was a member of the university's 1973 National Championship Team. He also completed a master's degree at Indiana University and is currently completing PhD studies in Business Technology and Leadership.
Marv formed his leadership-consulting firm, Marv Russell and Partners in 2010. He has become a well-known leadership consultant, motivational speaker, and workshop facilitator who has engaged audiences in both the US and Europe on the topics of leadership, culture and diversity, business ethics and human resource practices. In addition to his corporate experience he has many years experience speaking on leadership topics to Professional Associations, Athletic Organizations, Adolescent Groups, Religious Audiences and Non-Profit Community-Based and Government Organizations. Marv's volunteer board service has included work with YMCA's, Urban Leagues, Youth Services Bureaus and Hospital Systems. These organizations have been inspired by Marv's vision of leadership, workforce development and motivation, multi-cultural business operations, ethics and responsibility, and global and cultural diversity. Through the implementation of cutting edge, passionate programs and workshops, and dynamic message delivery, Marv shares inspirational, humorous, and challenging personal experiences using audience engagement tools and techniques designed to motivate his audience to think and challenge them to succeed in every endeavor.
Marv's first book "Linebacker in the Boardroom: Lessons in Life and Leadership," published in the fall of 2011, received national attention and was listed as a "new best seller in the leadership and motivation genre." Marv's complete bio and resume can be seen at: http://marvrussell.com/partners/marv-russell/
Editors Note: Marv Russell: global leadership expert, speaker author of the new book, Find Your Intern Impact Zone: What Employers Want You To Know and former University of Notre Dame Middle Linebacker continues his journey to assist students find those all important internships to jump-start their career.