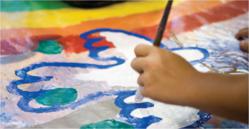 Helping children in our communities is the primary goal of the Intero Foundation. We are proud to support Pathways KIDS as they ensure children can receive the best possible care at a critical time in their lives
Sunnyvale, CA (PRWEB) May 01, 2013
The Intero Foundation has awarded Pathways Home Health & Hospice, a home health, palliative care and hospice agency, a $10,000 grant to support the Pathways KIDS program. Pathways KIDS provides health care and home visits for children with life limiting illnesses.
"When a child is seriously ill it is heartbreaking and overwhelming," said Cathy Jackson, president of the Intero Foundation. "Helping children in our communities is the primary goal of the Intero Foundation. We are proud to support Pathways KIDS as they ensure children can receive the best possible care at a critical time in their lives."
The Pathways KIDS program focuses on enhancing the quality of life for each child and their family through the medical expertise of a specially trained clinical team. The Pathways KIDS team includes the resources of a medical director certified in Hospice and Palliative Medicine and pediatric specialty nurses to provide pain and symptom management.
The entire family, including brothers and sisters, receive support. The Pathways KIDS Team is available on call 24 hours a day for consultation or home visits when needed, and addresses the physical, psychological, social, cultural and spiritual needs of each family.
"Pathways Home Health & Hospice is grateful to be a recipient of this grant from the Intero Foundation. When a child is diagnosed with a life-limiting illness, making the right decisions can be hard," said Sandra Coolidge, vice president of admissions, community relations and philanthropy. "With these funds, the Pathways KIDS team will be able to attend to the special needs of these vulnerable children."
About Pathways Home Health & Hospice
Pathways Home Health & Hospice is a non-profit, community-based organization with more than 36 years of assisting Bay Area families. Pathways was founded in 1977 by a group of Stanford physicians and community members who saw the need for professional care at home. That first year, Pathways served 12 patients. Pathways now serves over 5,000 families a year in San Francisco, Alameda, Santa Clara, San Mateo and Contra Costa Counties.
Affiliated with El Camino and Sequoia Hospitals since 1986, Pathways Home Health & Hospice is accredited by The Joint Commission, and is a member of the Visiting Nurse Association of America, California Hospice & Palliative Care Association, and the California Association of Health Services at Home. Pathways Home Health & Hospice is a designated 2012 HomeCare Elite Agency for Quality Care.
For more information about Pathways services, bereavement services, grief workshops, volunteering, or making a donation in support of Pathways' families, call 1.888. 755.7855 or visit our website.
About the Intero Foundation
The Intero Foundation is a non–profit organization founded in 2002 that has raised more than $2 million to benefit children living in the communities we serve. When Intero Real Estate Services was founded just eight years ago, its founders set out to create a company that was different. That difference would be based on values. One of those values is Commitment.
The Intero Foundation is the vehicle for expressing a meaningful and sustained commitment to our community.
To date, the Intero Foundation has lent its support to over 70 local charities – organizations that range in size and mission, but all work to positively impact the growth and well-being of children by enhancing their education and personal development.
The Intero Foundation is funded, promoted and governed by Intero agents – each of whom are vested in the health of the communities in which they work and live. An executive committee, led by Intero President and CEO Gino Blefari, provides strategic guidance. All members of the Intero community – executives, staff and agents – donate their time to further the Foundation's mission.
Intero has become a large organization, but not too large to remember that they are part of something still larger: a community to which we must give in order to receive.