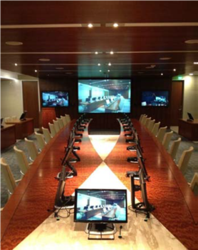 Dallas, TX (PRWEB) April 11, 2013
Whitlock, a global AV solutions provider, is hosting its showcase and seminar series, Convergence, in two Texas markets: Houston on May 14th and Dallas on May 16th. This event will feature the best in collaborative AV/IT technologies, plus expert advice and tips for adoption, standards, user experience and performance.
On display at Convergence will be the latest videoconferencing / telepresence, unified communications, streaming, digital media, 3-D and immersive technologies, projection systems and integrated automation and control systems. It's the largest show of its kind in the area featuring more than 50 leading manufacturers.
Attendees are given the opportunity to compare and test drive new 4K projection and display systems, mobile and cloud AV solutions and the highest quality telepresence systems on the market. Experts will be available to discuss best practices for managing high volumes of video traffic across the network, interoperability with legacy systems and integration with Microsoft Lync.
"Because of high demand, we are bringing this show back to Dallas and have also added Houston as a new location this year," states John Steinhauer, Whitlock's Vice President of Sales. "Our clients get great value from having so many of the best technologies in one location, and it's a perfect opportunity to discuss the challenges of managing networked AV across the enterprise."
Seminars will be held on Cloud AV and Managed Services and Establishing Global Standards. Whitlock will also host an interactive discussion on future industry trends with panelists from Polycom, Crestron, Biamp and Sony.
Whitlock's Convergence show is a free, open house style event, which runs from 9am-3pm, and is a perfect exploratory venue for AV and IT decision makers, architects, general contractors and facilities managers involved in complex technology implementations.
Refreshments are provided, and door prizes include iPad minis, iPod's, digital cameras, speakers, gift cards and a 3-D Sony TV!
For more details, please go to http://www.whitlock.com/events.
About Whitlock
Whitlock is a Global AV Solutions Provider, specializing in collaborative technology design, integration and managed services. The company helps clients implement interactive environments, including telepresence/videoconferencing rooms, digital signage networks, auditoriums, collaborative classrooms, visualization rooms, and control rooms/network operations centers. Whitlock also offers expansive AV managed services, including AVNOC and remote support, field services, on-site managed services, videoconferencing warranty/maintenance and virtual and hosted video services. The company currently has 20 U.S. locations, plus a worldwide delivery partner network through the Global Presence Alliance.