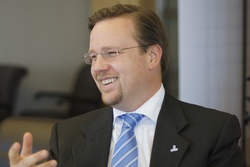 By putting faces to the brave individuals who navigate the complex, rapidly changing, and often dangerous dynamics of fragile and conflict affected societies, we underscore that people are at the heart of building lasting peace and a positive future.
(PRWeb UK) February 4, 2011
Events in Egypt and across the region are showing once again that people from all sectors and levels of society need to feel they have a stake in their future.
Interpeace, one of the world's largest peacebuilding organizations, has been working across the globe to enable societies to create the constructive socio-political dynamics that contribute to a peaceful future.
Scott M. Weber, Director-General of Interpeace said: 'For the last 15 years, Interpeace has put those in fragile societies at the centre of the process to design sustainable solutions.'
The 2009-2010 Interpeace Annual Report is being distributed now and is available on line at http://www.interpeace.org.
The report covers the organization's fifteenth year of supporting locally led peace processes. Recent achievements include our efforts to assist the successful Presidential elections in Somaliland, informing public opinion on viable options for a political settlement in Cyprus, on developing a broad-based dialogue on unity in Rwanda, and supporting strategies to prevent violence relating to youth gangs in Central America.
This latest Interpeace Annual Report also introduces six extraordinary individuals from over 300 peacebuilders that support the work of Interpeace. They work in some of the world's most difficult and challenging environments across Africa, Asia, Central America, Europe and the Middle East.
Scott Weber adds: "By putting faces to the brave individuals who navigate the complex, rapidly changing, and often dangerous dynamics of fragile and conflict affected societies, we underscore that people are at the heart of building lasting peace and a positive future."
The report also celebrates President John A. Kufuor's first year as Chairman of the Interpeace Governing Council. Former President of Ghana, he took over from President Martti Ahtisaari, former President of Finland and Nobel Peace Prize laureate, who served the organization from 2001–2009.
Financial highlights include the organization-wide transition to the highest financial reporting standard, International Financial Reporting Standards (IFRSs) in 2010. IFRSs are set by the International Accounting Standards Board (IASB).
The organization was also awarded the Swiss ZEWO seal of approval that certifies that the donations Interpeace receives will be used economically, efficiently and for their designated purpose. Increasingly sought after by governments and societies, the Interpeace budget for 2009 was 18.2 million USD and estimated to be over 22 million for 2010.
For more information on Interpeace or to arrange an interview with Scott M. Weber please contact:
Lisa Ross-Magenty Blaettler, Head of Communications
+41 22 917 8338 or +41 79 701 2597
About Interpeace
http://www.interpeace.org
Created in 1994, Interpeace is an international peacebuilding organization, with headquarters in Geneva, Switzerland. It plays a discrete role in helping fragile societies and those torn apart by violent conflict and civil war to build lasting peace. Interpeace operates as an independent non-governmental organization and in partnership with the United Nations on specific programmes. The organization works with 300 peace builders to implement programmes in 16 conflict and post conflict zones across the world:
Africa: Burundi, Rwanda, Guinea-Bissau, Somali Region, Liberia
Asia: Timor-Leste
Central America: El Salvador, Guatemala, Honduras, Haiti, and a regional programme for the prevention of Youth Violence
Europe: Cyprus
Middle East: Israel, Palestine
Interpeace also has an additional thematic programme on constitution building.
About Scott M. Weber
Scott M. Weber is the Director-General of Interpeace, an international peacebuilding organization and a strategic partner of the United Nations. Scott was appointed to his position in 2005 and in 2009, he was selected as a Young Global Leader by the World Economic Forum, an honor bestowed by the Forum each year to recognize "the two hundred most distinguished young leaders below the age of 40 from around the world." In 2010 and following a review of his performance, Scott was nominated by the Governing Council for a second 5-year term as Director-General.
Scott began his career in the United Nations, first in disaster reduction and then in political affairs. He is a member of the Young Presidents' Organization (YPO), Chatham House (UK) and the Steering Committee of the Geneva Peacebuilding Platform. He is also a member of the Advisory Boards of the Geneva Centre for Security Policy (GCSP) and the Center for the Democratic Control of the Armed Forces (DCAF). He holds a Bachelor's degree in International Relations, Economics and Russian from Georgetown University. Scott is French and American.
About the IASB
http://www.ifrs.org
The IASB was established in 2001 and is the standard-setting body of the IFRS Foundation, an independent, private sector, not-for-profit organization. The IASB is committed to developing, in the public interest, a single set of high quality global accounting standards that provide high quality transparent and comparable information in general purpose financial statements. In pursuit of this objective the IASB conducts extensive public consultations and seeks the co-operation of international and national bodies around the world. The IASB currently has 15 full-time members drawn from 10 countries and a variety of professional backgrounds. By 2012 the Board will be expanded to 16 members. Board members are appointed by and accountable to the Trustees of the IFRS Foundation, who are required to select the best available combination of technical expertise and diversity of international business and market experience. In their work the Trustees are accountable to a Monitoring Board of public authorities.
About ZEWO
http://www.zewo.ch
The ZEWO seal of approval, a Swiss certification, certifies that donations will be used economically, effectively and for their designated purpose. It stands for organizations which offer transparent information and true and fair financial reporting, have independent and appropriate control mechanisms, provide open communications and which procure their funds in a fair manner.
###