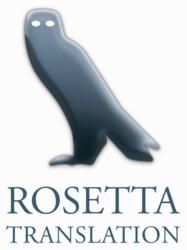 We offer competitive prices, which reflect our reliable and high quality service
Shanghai, China (PRWEB) November 22, 2011
The Shanghai arm of Rosetta Translation, whose headquarters are based in London, is launching its interpreting service in China this month. The Shanghai office was established in the bustling Chinese city in 2008 by Managing Director Eric Fixmer, who is now also based there for the majority of the year. Having previously focused primarily on written translations, particularly focusing on Chinese and other Asian languages it now offers a spoken language service to new and longstanding clients alike.
Sean Jian, Head of the Shanghai team, explains what it will mean to the growing Chinese branch: "Since 2008 we have been working on building our client base and also our reputation as a reliable language service provider in the translation services market. Business in China is fast moving and there has been a solid demand for translations from both Chinese and foreign companies alike, particularly in more specialized areas, such as technical translation in China. We have had a growing requirement for interpreting services for our corporate clients, again on both a national and international level".
Mr Jiang, who has been with the company for over 18 months, also adds "We hope that by offering a fully comprehensive interpreting service we will be able to tap into the current business needs to enable foreign companies to do business successfully in China. We are happy to talk to our potential clients about their interpreting needs and how Rosetta Shanghai could go about fulfilling these."
He concludes by saying "We offer competitive prices, which reflect our reliable and high quality service. We aim to offer services in most language combinations with Chinese though rarer combinations as well as technical or highly specialised subject matter may incur a slight surcharge. Rosetta Translation only works with qualified professionals who have significant experience in the field of interpreting and their area of expertise.
For more comprehensive information and details of how to obtain an accurate quote visit Rosetta Translation's China website: http://en.rosettatranslation.com.cn. Information on the website can be accessed both in Chinese and English.
About Rosetta Translation:
Rosetta Translation primarily provides translation and interpreting services across all world languages. Although headquartered in London, it provides nationwide and international interpreting services to corporate and individual clients alike.
###