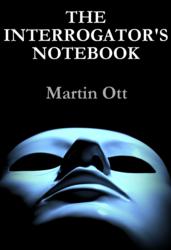 "This compelling novel explores much more than the art of interrogation. It probes the depth of the human psyche, as well as the interstices that hold a family—and a life—together. You won't be able to put it down."
- Ken Atchity, Story Merchant Books
Los Angeles, California (PRWEB) February 13, 2013
Story Merchant Books presents the debut novel The Interrogator's Notebook from prize-winning author and blogger Martin Ott. A former U.S. Army interrogator, Martin Ott uses his real-world experience and meticulous research in creating the character of Norman Kross, a master interrogator skilled at unlocking others' secrets but blind to the truth of his relationship with his wife, sons, father, and friends.
Other writers who have been interrogators, including J.D. Salinger, have been profoundly influenced by their experiences. The question of what is moral and what is necessary existing long before the recent questions about water boarding. The true litmus test of a society is not in how it treats its citizens, but in the ways it protects its enemies, those captured and afraid for their lives.
In The Interrogator's Notebook, Norman Kross is a career interrogator who has worked covertly in some of the most dangerous places in the world. It's taken its toll, though. He returns to his Los Angeles home and family, contemplating retirement and coming to terms with his past in his notebook.
Floundering as a teacher, Norman agrees to take on one last assignment, to interrogate the character actor George Stark who may be responsible for the death of a director's daughter. Armed with cunning, deceit and a deadly past, the actor poses an escalating challenge, and a terrifying threat to everything Norman has ever cared about.
Influenced by novels ranging from The Kite Runner and A Clockwork Orange, Ott addresses key questions of manipulation, power and personal choice throughout The Interrogator's Notebook. The author is also a transplanted Angeleno, whose fiction has been richly influenced by a city that draws more than the occasional schemer and dreamer to its ranks.
This Tinseltown influence provided the genesis for George Stark, a character actor who has devoted his life to perfecting his craft of living in other people's skins. Shameful secrets and a dark past drives the actor, and his ability to manipulate his mannerism, voice and appearance play a key role in the deadly dance he performs with the interrogator Norman Kross.
The heated debate surrounding enhanced interrogation techniques and the role of the interrogator in protecting our national interests provides the backdrop to this crossover literary/suspense novel. But it is the personal life of a man pushed to the brink of his and societal moralities, and the choices that he makes, that is at the heart of this story.
Available for a limited time as an Amazon exclusive Kindle release for $4.99.
About the Author
A former U.S Army interrogator, Martin Ott currently lives in Los Angles, where he often writes about his misunderstood city. He is the author of three books of poetry: Captive, De Novo Prize winner, C&R Press, Poets' Guide to America, co-written with John F. Buckley, and Underdays, Notre Dame University Press (to be published in 2015). His Writeliving blog - writeliving.wordpress.com - has thousands of readers in more than 75 countries.
For more information about The Interrogator's Notebook, please visit http://www.theinterrogatorsnotebook.com or contact Martin Ott directly at 818.613.9007.