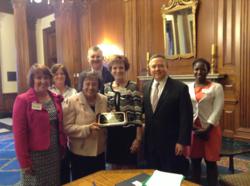 "Many of our members are afflicted with both IC, adhesions, and other overlapping pelvic pain conditions, which are only now being recognized by the medical community as a complex syndrome, requiring a multi-disciplinary approach to treatment."
Dallas, TX (PRWEB) June 14, 2013
The International Adhesions Society (IAS) last week was invited to support the efforts of the Interstitial Cystitis Association (ICA) in advocating to lawmakers on Capitol Hill for continued federal research, education and awareness programs aimed at helping patients with Interstitial Cystitis (IC) and related pelvic pain conditions.
The ICA estimates that up to12 million Americans, the majority of them women, suffer from IC, a debilitating and very painful bladder condition. (Source: http://www.ichelp.org, accessed 06/13/13). Patients with adhesions, whose plight is represented by the IAS, suffer from pelvic pain and complications related to internal scar tissue resulting from surgery, trauma or inflammation. Because many adhesions patients suffer from symptoms similar to those found in Interstitial Cystitis, the IAS believes, based on its own and other research, that the total number of patients with these symptoms approaches 30 million Americans (Source: International Pelvic Pain Society: http://www.pelvicpain.org/patients/patient_corner.aspx, accessed 06/13/13).
Indeed, patients with initial diagnoses or complaints of IC, adhesions, endometriosis, irritable bowel syndrome, complications from hysterectomy, genital pain and other chronic pelvic pain suffer overlapping symptoms, collectively termed CAPPS (Complex Abdominal and Pelvic Pain Syndrome).
The inter-related nature of these conditions has sparked a trend for patient organizations to work together to achieve results for their members. "The Interstitial Cystitis Association is a leader in its field, increasing awareness of and advocating for research into this still poorly understood condition affecting millions of American women, men and children. Our organization, the International Adhesions Society, is honored to be a part of this advocacy effort, since many of our members are afflicted with both IC, adhesions, and other overlapping pelvic pain conditions, which are only now being recognized by the medical community as a complex syndrome, requiring a multi-disciplinary approach to treatment," says Dr. David Wiseman, Founder of the International Adhesions Society.
In another recent example of effective cooperation among related patient advocacy groups, the International Adhesions Society conducted a survey on opioid use among pelvic pain patients, responding specifically to an FDA proposal to limit prescription of opioids. Supported by nine other patient advocacy groups and web sites, including the ICA, and with more than 2800 responses, the survey showed that the use of opioids in over 92% of CAPPS patients would be rendered "off-label", if the proposed limits are implemented. (Source: Impact of Approved Drug Labeling on Chronic Opioid Therapy, Submission by IAS to Docket FDA-2012-N-1172, 03/29/13). Access to, or reimbursement for opioids may be placed at risk in over 80% of these patients. No final decision has been published by the FDA panel, which is still considering the proposed changes to opioid prescribing limits.
"We are hopeful that our efforts on Capitol Hill will help ensure continued funding for NIH medical research into interstitial cystitis and related pelvic pain conditions, as well as continued funding of the CDC's education and awareness programs. We are also hopeful that the important Department of Defense peer-reviewed medical research program will continue to receive funding," states Dr. Wiseman.
Continues Dr. Wiseman, "The work of the IAS is living proof that these programs can pay off. As a result of the awareness created by the ICA, we were inspired to start asking our adhesions patients about bladder pain. This in turn led to our research that showed that a novel, wearable therapeutic ultrasound device, PainShield® MD, was able to reduce painful symptoms in IC and related conditions in patients resistant to other treatment. We were so impressed by these data that we set up a company, KevMed LLC, to market the product in the United States for these indications."
About the International Adhesions Society
The International Adhesions Society (IAS) provides awareness, information, advocacy, support and research for patients and their families suffering from adhesions - internal scars that connect organs or tissues that are not normally connected, as well as Adhesion Related Disorder (ARD) and Complex Abdominal and Pelvic Pain Syndrome (CAPPS). The IAS was founded and is funded by Synechion, Inc., a company providing R&D consulting services focusing on adhesions.