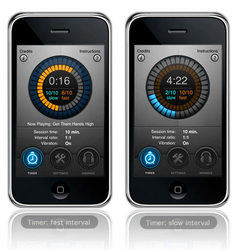 Everything about Apple and the iPhone is quality and I think that my team and I have carried that forward with our design and have produced a piece of software worthy of the being on the most exciting mobile platform available today
London, UK (PRWEB) September 22, 2009
New iPhone Development company Appnoose Ltd UK has released ITGO, Interval Trainer GO, a dedicated interval signaling application for the iPhone and iPod Touch specifically designed to offer advanced user controlled signaling in the form of vibration, sound and visual alerts while playing user-defined fast/slow interval song playlists.
ITGO sets a new standard for interval training on the iPhone and iPod Touch with a host of new features and design aesthetics never previously seen on the newest Apple platform. Features such as dual music playlists for fast and slow intervals in addition to voice, beep or custom prompts, double vibration on the iPhone and gorgeous concentric dial timers that include separate interval timers as well as a session timer makes ITGO a worthy contender for the best designed interval trainer for the iPhone or iPod Touch. "I wanted to design an interval trainer that would provide the most beautiful training experience possible on the iPhone," declares Appnoose founder OD Hunte. "Everything about Apple and the iPhone is quality and I think that my team and I have carried that forward with our design and have produced a piece of software worthy of the being on the most exciting mobile platform available today", continues music producer Hunte.
ITGO'S operation is based around three main screens; the Timer, Settings and Audio screens. Users start by selecting their session workout time, the fast interval duration and the slow/fast interval ratio. Users can also choose to switch the vibration alerts on or off on this page. Next, users can switch to the Audio page to select music from their onboard iPod library for the separate slow and fast playlists. The Audio page also includes options to choose audio prompts, select the playlist play mode and volume settings for the prompts and music. Finally users switch to the Timer screen and after selecting a warm up and cool down length from zero to 3 minutes, start their workout. ITGO's timers then count down the intervals in circular segments and displays individual numerical timers for the fast and slow intervals and total session duration as well as the currently playing song and provides double vibration alerts at each interval change. The music playlists can be set to shuffle, repeat or just play in order.
Appnoose founder OD Hunte began developing ITGO with his graphic designer and iPhone OS programmer after successfully losing 5 stone in body fat and being featured in the December 2008 edition on Men's Health UK. Hunte put his own personal research into the development of ITGO and states the result is "the best available interval training experience for the iPhone and iPod Touch".
Interval Trainer GO is available in the app store at http://www.itunes.com/apps/ITGO-IntervalTrainerGO
High-intensity interval training (HIIT) or interval training is an exercise strategy that has been scientifically proven to be one of the most effective forms of cardiovascular exercise for burning fat in a short and intense workout. The American College of Sport Medicine concluded in a paper released in July 2009, that interval training may be 'particularly critical for improving cardiac function.' Sessions typically vary from 15-30 minutes with intervals being 2:1 ratio in terms of time. Typically, jogging for 40 seconds followed by 20 seconds sprinting. However systematically measuring these intervals without a personal trainer or cardiovascular machines if you are jogging, cycling, rowing or using machines without automatic programmes presented a problem that is now elegantly addressed by ITGO.
About Appnoose:
Appnoose is a new London based iPhone and iPod Touch software development company started by OD Hunte in 2009. The company mission statement is to bring quality products to Apple's new mobile platform.
About OD Hunte:
OD Hunte (Leona Lewis, Unkle Jam, Natalia Druyts, Leela James, Ten Days Till) is an Urban Producer/Writer/Remixer with a recent European No 1 and platinum certification with Natalia Druyts (SongBMG). Hunte has many tracks in Film and TV and his most popular track Get Them Hands Hi by his group Ten Days Till was used in American Pie 6 Beta House, Paula Abduls' Hey Paula and EA Sports NBA Live 07. Another one of his productions, Crook Dancin' by Slic 1 was used in EA Sports Fight Night Round 3 and From the Start, again by Slic 1, was used in Farce of the Penguins. I Am What I Am by his group Ten Days Till has been tapped to appear in the feature film Mother and Child starring Samuel L Jackson, Naomi Watts, Annette Bening and Kerry Washington. Hunte is a producer/writer for Extreme Music/Sony ATV, Megatrax LA, PigFactory LA and KPMH Music House/ EMI in London. More info at http://www.odhunte.com
Contact Information
OD Hunte
Appnoose Ltd
LONDON, UK
http://www.appnoose.com
http://www.itunes.com/apps/ITGO-IntervalTrainerGO
Tel: +44 (0)7774 265 211
Fax: +44 (0) 203 006 8892
Contact Information
OD Hunte
Appnoose Ltd
LONDON, UK
http://www.appnoose.com
Tel: +44 (0)7774 265 211
Fax: +44 (0) 203 006 8892
###