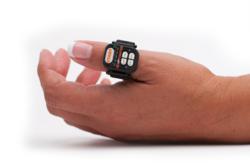 This gadget is suited for fat loss; fat loss through high intensity interval training. I'm convinced. This little device is a gem.
Raleigh, NC (PRWEB) August 31, 2012
Interval training workouts feature intense exercise followed by short periods of rest to build muscle, increase endurance and burn fat. Taking care to rest between sets is hardly a new school of thought, yet specifically timing these rest periods is often ignored in fitness regimens.
Set Starter has designed an interval timer to serve this purpose during weight training, running and cycling workouts where mobility and constant focus are key. While most timing devices take the form of smartphones, watches, belt-clip timers and music players that encumber workout effectiveness, Set Starter has introduced the world's smallest interval training timer to more effectively support athletes and fitness enthusiasts in their workouts.
Founder Eric DeRosa created the timer to help athletes properly monitor rest between sets and eliminate distractions.
"Set Starter can be used to keep workouts on track without clock-watching, which can reduce focus and workout intensity," he said.
Launched earlier this spring, Set Starter has sales from across the U.S., as well as from Australia, New Zealand, Germany, Spain, Brazil, Canada and Great Britain. Athletes, personal trainers and fitness bloggers alike give Set Starter high marks.
Recently, Stewart Rogers at UsFitties.com put the Set Starter through the paces during high-intensity interval training (HIIT) sessions, weightlifting and running workouts. While running, Rogers used Set Starter's 30-second interval, on repeat, so he could do a VO2 max improvement session at 100 percent effort for 30 seconds, followed by 30 seconds of lite jogging until exhaustion.
"The Set Starter interval timer is a slick unit that always feels secure and that provides most of your interval timing needs in a very small and useful package," said Rogers. "It sure beats having a huge lump of plastic hanging from your waistband or trying to figure out a secure holder for your 4.5 inch long smartphone."
Fitness guru Troy Pesola also was among the first to review Set Starter. He put the interval timer through a variety of workouts with a video demonstration at CubeDwellerFitness.com.
"Grab the bar and punch out a killer set of deadlifts, squats or cleans," said Pesola. "Then tap the START button … off it goes timing your rest period. When it alerts you; go back at your next set."
Pesola also shares his thoughts on the importance of monitoring rest during interval training. "I have been digging into the importance of timing rest/recovery intervals when working out. This is especially true with weight lifting. The SetStarter is perfect," he said.
This is why DeRosa, a 1987 graduate of West Virginia University's sport management program, spent 10 years of trial and error to design a more convenient way to time intervals and monitor exercise recovery between sets.
"Runners and other athletes can avoid the habit of constantly looking at a stopwatch to count down time during workouts," said DeRosa. "With Set Starter, they train themselves to give maximum exertion for a period of time, and, just as important, rest when it's time to rest."
Suanne Rieker, a women's fitness specialist and certified personal fitness trainer, also gives Set Starter high marks, "I love the Set Starter. There is no doggin' it when it goes off," she said.
Pesola also noted, "This gadget is suited for fat loss; fat loss through high intensity interval training. I'm convinced. This little device is a gem," he said.
Set Starter's easy-to-use design does not require complicated setup and has convenient, one-touch operation. It fits comfortably on a thumb and does not interfere with physical activity. Variable alarm options, including an audible beep, visual LED light, or silent vibration, help train athletes to avoid glancing at their stopwatch and stay focused on their workouts.
Users indicate Set Starter is useful for a variety of workouts, including walking, running, cycling, weight lifting, soccer and football drills, inline skating, sprint intervals, jump rope, box jumping, martial arts, plyometrics, and most other workouts that feature intervals.
Set Starter, the world's smallest interval training timer, is available online at the company's website or Amazon.com for $29.95. Team discounts are available to coaches and organizations dedicated to group wellness and fitness, simply call 919-417-5866 or email sales (at) setstarter (dot) com.