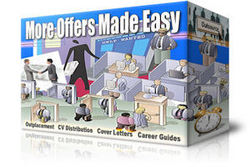 We are updating our content daily and continuing to develop our tools to ensure that we provide the most effective solution to meet the changing recruitment landscape
(PRWEB) May 13, 2008
May 6th , 2008, GetMoreJobOffers (http://www.getmorejoboffers.com), today announced a major upgrade to their advice service that helps job seekers at every stage of their job search.
Following the overwhelming success of their services, Get More Job Offers is now launching its "Six Steps to Success" Process as a set of video tutorials.
"Research tells us that more than 90% of applications made by job seekers don't get any results, yet a small portion of candidates consistently get more referrals from agencies, more interviews and a much higher number of job offers despite having similar skills and experience to other candidates." Says Steve Butler, Co-Founder of GetMoreJobOffers.
"What gives them the advantage is the way in which they are marketing their skills and experience."
"Since 1996, we have been researching and testing the tactics and strategies used by these candidates and applying them across a wide range of industries. Our challenge has been condensing this experience into a concise, step by step approach, that can be used by candidates to improve their success."
"Our video tutorials are the next step in helping to train job seekers as quickly as possible so that they can rapidly reap the benefits of this approach. These are the same, tested, six-steps that we have used with our private clients for many years
"We are delighted to announce the launch of our improved service." said Rob Kemp, co-founder. "
"We are updating our content daily and continuing to develop our tools to ensure that we provide the most effective solution to meet the changing recruitment landscape," said Rob Kemp, GetMoreJobOffers co-founder.
"GetMoreJobOffers is the only service available of its kind and we are looking forward to being able to help a much greater number of job seekers."
About GetMoreJobOffers
GetMoreJobOffers, The Job Conversion ExpertsTM , specialise in helping job seekers find job opportunities and convert these into job offers.
Get More Job Offers launched the world's first affordable service that provides the benefits of personalised career coaching without the cost during August, 2006.
For more information, visit the GetMoreJobOffers site at http://www.getmorejoboffers.com/about-us.html
Contact:
Steve Butler
Co-founder, GetMoreJobOffers +44-1789-842494
###