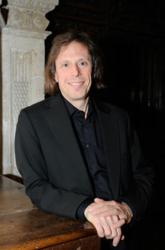 New music (actually in this case, old new music) is the key to helping us understand our musical past and how it led us to where we are today.
Waterbury-Center, Vermont (PRWEB) May 14, 2013
Maestro Michael Alexander Willens spoke to Paul Ballyk, reviewer on Expedition Audio, about his recent world premiere recording on the cpo label of Carl Heinrich Graun's Easter Oratorio, which Mr. Ballyk praised for its "extraordinary uniformity of color and expression." In the interview, Maestro Willens answered questions pertaining to the music and performance of Graun's eclipsed work, as well as the importance of music exploration.
For those who are passionate about classical music, it's always a pleasure to share one's discoveries with others, especially of uncommon repertoire. For esteemed professional Maestro Willens, who has spent much of his career in the interest of bringing lesser known works to the stage and stereo, sharing music with others takes on a whole new meaning.
Music director of the Kölner Akademie, Maestro Willens earned his B.M and M.M degrees at the Juilliard School in New York and is known worldwide for his "well-rounded and impressive interpretation[s]". He is also well-rounded as a conductor, being familiar with performance practice styles ranging from Baroque through Contemporary, and conducting the Kölner Akademie which performs on both period and modern instruments. "For the Graun (and actually for all of our performances and recordings)," said Willens, "we use instruments of the period; so for the Graun, it was baroque instruments."
Carl Heinrich Graun, though a gifted composer, was obscured by his prodigious contemporaries Händel and Bach. It's very fortunate that his music has been brought to the public's ear by such gifted musicians and on an easily accessible classical CD. When asked if there was a growing audience for programs of completely unknown classical music, Maestro Willens replied, "I would certainly hope so." He felt exploring unknown classical music is important. "New music (actually in this case, old new music) is the key to helping us understand our musical past and how it led us to where we are today."
To read the full interview on Expedition Audio, click here. You can also listen to an extended soundclip from the recording on Expedition Audio's YouTube channel.
--
Expedition Audio is a sister site of HBDirect.com and both are Waterbury-Center, Vermont based companies that provide music CDs, SACDs, DVDs and Blu-Rays to customers interested in all genres of music. Since 1985, HBDirect.com has consistently delivered product to customers with exemplary customer service as a small, family-owned Vermont company. For more information on HBDirect or Expedition Audio, please call 1-800-222-6872 or visit http://www.hbdirect.com.