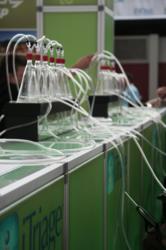 It creates an interactive atmosphere at any type of event and generates a conversation topic for guests
Salt Lake City, Utah (PRWEB) August 31, 2012
Salt Lake City based event design company, In The Event has added oxygen bars to their party inventory, giving clients a unique alternative to the typical beverage bar. The company's oxygen bars allow users to breathe over 90% pure oxygen infused with aromatherapy scents through a disposable, and recyclable, nose hose. In The Event offers six or twelve person oxygen bars, with the disposable nose hoses and essential oils included in the rental fee. The disposable nose hoses are available in a variety of colors. The oxygen is generated by an oxygen concentrator, which transforms ambient air. In The Event's oxygen bar rental apparatus is 29" wide by 6.5" deep by 14" high. The apparatus also glows to light up the the glass bottles that sit on top of the bar and humidify the oxygen.
With their main business being corporate event design, In The Event aims to supply their clients with a fun and innovative selection of event rentals. Having their primary area of operation being Utah means many of the events they produce are dry and an oxygen bar is the perfect alternative to an alcoholic beverage bar. "It creates an interactive atmosphere at any type of event and generates a conversation topic for guests," says GayLyn LaSpina, Company Owner and President. The oxygen bars provided by In The Event can be infused with a number of scents. The scented oxygen is produced by passing through the bottles of water that are infused with 100% natural therapeutic grade essential oils. The essential oil scents include the following:
Almond
Cherry
Cinnamon
Eucalyptus
Gardenia
Lavender
Lemongrass
Orange
Peppermint
Spearmint
Vanilla
Wintergreen
Many oxygen bar users claim to experience a number of health benefits. Our bodies need oxygen to thrive, to metabolize food more efficiently and to produce more energy. Some users feel that a periodic increase in oxygen intake helps reduce stress, alleviate headaches, migraines, hangovers, and other health ailments to help you feel more alert and relaxed. In The Event's oxygen bars utilize oxygen generators and are completely safe and sanitary, as each person receives a disposable nose piece to use for the duration of the event. The oxygen concentrators require little set up and are quiet, so as not to interrupt any part of your occasion.
In The Event's oxygen bars are now available for rental, with one bar accommodating six people and the two bars combined providing oxygen for twelve people. The oxygen bar apparatus can be used on any of In The Event's glowing bar configurations, as well as on any other type of rental bar. As part of their green efforts, In The Event recently started participating in a nose hose recycling program. After collecting 1,000 of the nose hose pieces they are sent to be completely melted down and the plastic is recycled.
In The Event is a full service event design company providing the ultimate in products and services to clients throughout the U.S. Their ability to transform your desires from concept to reality makes for an exciting and cohesive planning process. You'll receive the best products and services available while staying in line with your budget. Please visit http://www.intheevent.com for more information.