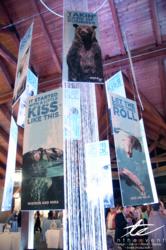 Going hand in hand with our dedication to preserving the environment, we also seek out opportunities to help protect and preserve animals and their habitats
Salt Lake City, Utah (PRWEB) September 26, 2012
Utah event design firm, In The Event, sponsored the 2012 Hogle Zoo Rendezvous held on September 6th. This is the second consecutive year In The Event has sponsored the Zoo Rendezvous. The event is Hogle Zoo's largest yearly benefit and all proceeds go towards animal care and exhibit improvement. The night included small plates and numerous beverages, donated by local eating establishments and caterers, live music played by the Sensations, a silent auction, and an artist in action creating a work of art on site. A live ice carving occurred at the beginning of the evening, with the final product being a polar bear sculpture. Guests also had the opportunity to get up close and personal with some of the zoo's birds, reptiles, and other small animals. Additionally, the exhibits were open to attendees for a majority of the night, with group tours being offered. The event was held from 6 p.m. until 11 p.m.
For the Zoo Rendezvous, In The Event created a custom mobile that hung from the ceiling in the center of the pavilion. The mobile showcased pictures of some of the Rocky Shore's inhabitants. One of In The Event's beaded crystal columns was hung in the middle of the mobile exhibit and the entire display was lit from the floor. Other event decor items provided by the company included thirteen and sixteen foot arches placed at the entrance, white leather furniture, an LED deluxe bar and LED display cases, which held silent auction items. The glowing bar and display cases were set to a light blue color, which was used in much of the evening's decor. In The Event also provided non floral centerpieces for the occasion. Their in house designer developed two different centerpiece styles, featuring records, music notes and LED discs and risers.
In The Event partners with Utah's Hogle Zoo on a number of projects and is dedicated to the mission of the zoo. "Going hand in hand with our dedication to preserving the environment, we also seek out opportunities to help protect and preserve animals and their habitats," says GayLyn LaSpina, In The Event owner and President. Upon the completion of the zoo's newest exhibit, Rocky Shores, In The Event provided decor, including a graphic clinged bar and centerpieces for the grand opening. Rocky Shores habitat features a polar bear, river otters, harbor seals, sea lions, grizzly bears and eagles.
In The Event is a full service event design company providing the ultimate in products and services to clients throughout the U.S. Their ability to transform your desires from concept to reality makes for an exciting and cohesive planning process. You'll receive the best products and services available while staying in line with your budget.
MEDIA CONTACT: Ali Dempsey, In The Event, (801) 448-2343, adempsey (at) intheevent (dot) com